Mike Lin's 1996 Mitsubishi 3000GT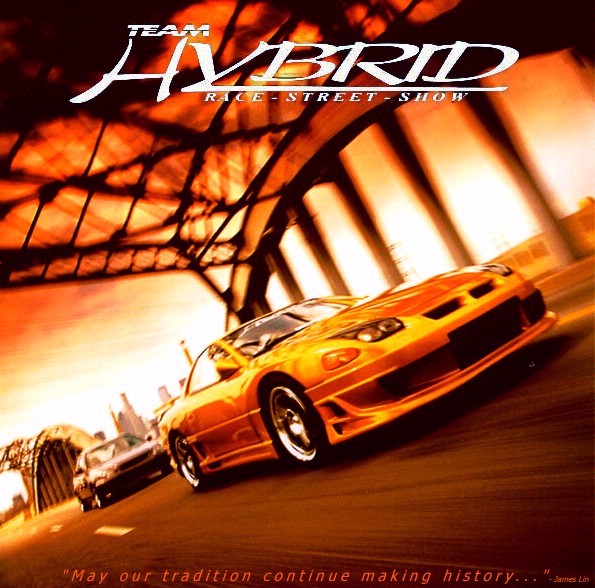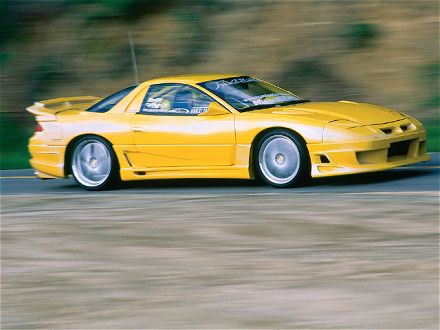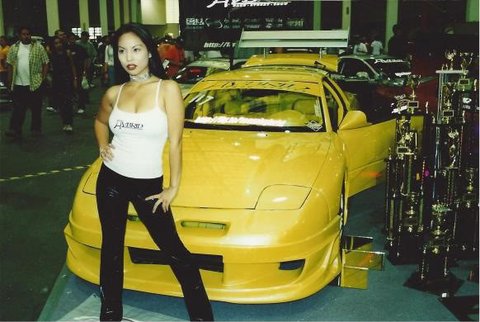 July 2001, Import Tuner wrote. Title: Diamond in the Rough. This once rough-cut stone is now a polished gem.
"The Mitsubishi 3000GT, in its stock form, is a monster of a vehicle. The body contours and design make the wheelbase look longer than it actually is and, off the lot, the mammoth ride resembles a chop-top Hummer with pop-up headlights and a makeover from Big Daddy Roth. But that's the beauty of it, taking something so unrefined and making into a cruising California custom, built for a high-speed rendezvous.
When Michael Lin first purchased his 1992 Mitsubishi 3000GT SL, the car remained stock until his brother started a car club. The club, Team Hybrid, which began in 1994 would evolve into a club that boasts a total of 48 members and serve as a second family for the devoted car enthusiasts. "It took me a while to fix up the car because there are not a lot of parts for a 3000GT," said Lin. "If there was, most of the parts were really expensive, especially body kits. I looked at the Veilside and Bozz Speed Body kits, but I think that the Bomex body kit is the best looking out there for the car."
In order for the Bomex front bumper to fit the first-generation 3000, the bumper had to be modified by Body Pros of Gardena, Calif. The modifications included the alteration of the headlight area to match the pop-up headlights, in addition to shaved turn signals.
Upon completion, M&R Paintworks in Los Angeles prepped the frame and body for the three-stage Ferrari yellow paint job, completed the final touches and laid down the paint.
One might think that this paint combo came over night, but think again. The decision to bolt the kit on and get a repaint was a costly one, as the car had previously undergone two facelifts.
"The original color was red, but after a few years, it began to fade. My first paint job was silver, which I got tired of after a year. I wanted a color that would stand out," said Lin. "The color eventually changed to canary yellow with a blue pearl. After half a year, I decided that I wanted more of a pearl in the paint, which is why I repainted it."
As you can see, the final product was a result of years and thousands of dollars spent playing with a big, expensive canvas and lots of Crayola crayons and glitter.
The car's look is complemented with a set of 19-inch Volk AV3s. The rims measure in at 19×8.5 up front (with 245/35-19s) and 19×9.5 (with 275/30-19s) in the rear. All rims are wrapped with a set of Yokohama AVS tires that help keep this 3000GT on point. Behind each wheel is a set of Stillen cross-drilled rotors that are accessorized by a matching set of Stillen brake pads. To increase performance of the braking system, a set of BFGoodrich steel-braided lines were installed all around.
To keep this tank right side up, the suspension was beefed-up with a set of Eibach Sport springs along with a Cuzco rear strut bar. The folks at GT PRO handled the installation and tuning of the brake and suspension system.
Inside, you'll find a yellow and blue vinyl interior that was done by Xtreme Designs. There are six embroidered logos of "Team Hybrid" on the front and rear seats along with the floor mats. The yellow Momo Top Power steering wheel adds to the ambience, as it not only matches the motif of the inside, but also is a good contrast for the four Street Glow "blue" neon lights located throughout the car. Final additions include AC R-Style E-brake, shift knob and Touring race pedals.
To put all those driving goodies to use, you have to have some power getting to the floor, which is why Michael had GT PRO install and tune a direct-port, 75-hp NOS kit. To aid in spark delivery, a set of Magnecor ignition wires were installed, along with a yellow capped Optima battery and K&N air filter. The piping for the exhaust was custom-bent and ends with the AC Revolution muffler, which is constructed out of Kevlar and aluminum. For the future, Lin plans to install a turbo or supercharger kit that GT PRO is in the process of fabricating.
Got music? Sure do, but along with that, the 3000 flexes a Kenwood VZ-907 touch screen monitor with a built-in TV tuner. The unit controls the C-907 10-disc changer, while the Apex MD-100 Mobile DVD player provides countless hours of movie madness. All frequencies are amplified through a Rockford Fosgate Punch 250a amp and Pioneer Premier GM-X434. Each unit runs a full range of Cerwin Vega speakers in the front and rear, while the two 12-inch Rockford Fosgate Punch subwoofers provide the back rub. The install sports two blue neon lights in the sub box and was wired and provided by Stereo One of Northridge, Calif.
Lin showed at many local events and even took home a third place finish in the Mitsubishi class at the Pomona Import Showoff. The car's successful completion was aided by many helping hands that put forth countless hours into this effort. Among them, Lin would like to thank BJ at Meguiars, Team Hybrid, his brother James, his girlfriend and especially his grandmother, father and mother. (May she rest in peace.)"