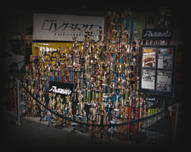 TEAM HYBRID stands for the birth of a legendary tradition in creativity, originality, and quality. With the guidance of Team Founder & President, James Lin, Team Hybrid continues to promise legendary traditions set forth for many years to come (27+ years and going stronger than ever). The leaders of this Team want an efficient organization that would set its own standards and qualifications. The ideal is to create a TEAM that would comprise itself with a diversity of hardworking/trusting members instilled with our honorable values, respect, passion and especially, a special individuality to every car.
By providing the TEAM with goals to strive for, each member spends countless hours of time, effort, and dedication to show love (aka. "Hybrid Luv") and our purpose. It's not just about winning a show or a race here or there, it's about getting there as a TEAM. Team Hybrid has a special formula and will continue to make a strong statement in the import industry in the new millennium.
This TEAM is not just another car club or crew, but a special family of friends consisting itself in a team ideology. Team Hybrid is a well-rounded team with close friendships, a strong management system, honor, trust, understanding, patience and HYBRID LUV incorporated among the original (OG) Hybrid Members, the Hybrid Hunnyz, the Generation 2 Hybridz, the Generation 3 Hybridz, and now the 27th Generation Hybridz.
History of Team Hybrid
Team Hybrid history was made on January 7, 1995 in Oxnard, California when James Lin decided that his inspirations and imaginations to upgrade his ride would compliment well with peers who value and respect his work. James spent the first 3 months preparing a wide range of new and exciting ideas in order to build a strong solid foundation to start off his visions.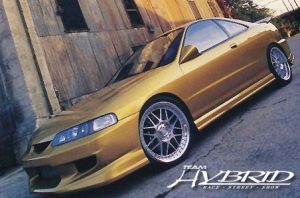 Everyone knows it's easy to gather a group of friends, and just give it a title to start a Team, but in contrast, James researches: the name and meaning of the team, the colors of the team, the overall theme of the team, the management system/SOP/leadership circle, show displays/presentation, the type of members, the type of corporate sponsors, the quality of members, hunnyz, and probationary members' cars/personality/background, and the team's own original style to present to its fellow peers and corporate sponsors in the import industry at show, races, international/domestic magazine articles and in social media.
There are a varying number of ways to construct a team, but to start with a solid blue print and have an idea that flows makes a Team with fewer weak links. The Team knows how selfish some members can become, having personal ideas to break up the team, having jealous feelings for whatever reason, having lack of support or just using the name of "Hybrid" to make a name of themselves. Over half of the Hybrid members have been with the Team since 1995.
Team Hybrid is a passion each member feels. With a strong leader, there is always a good supporting staff to aid and carry out all responsibilities.
At the head of its staff is:
Vice President: Wayne Chen. He is credited for spending 3 years in order to take Team Hybrid into an industry level team as well as helping land some of our current major corporate team sponsorships.
Michael Lin was one of the most trusted and respected Co-Leaders. He was a true OG and is James' little brother who was there with him since day 1 of Team Hybrid's establishment.
Em Suvanamas was one of the most trusted and respected Co-Leaders. He was one of the true OG's and is consulted upon often for his advice.
Scott Dean serves as the San Diego Director. He is also responsible for recruiting, training, educating and leading the next generation of Hybridz.
Archie Concon serves as the Nevada Chapter Director. He is responsible for training, educating and leading the next generation of Hybridz.
Armando Rodriguez is the Arizona Chapter and Logistics Director. He is responsible for training, educating and leading the next generation of Hybridz. He also manages and transports all the needed equipment for our major shows for setup and display. Ensuring we look amazing and help put on a show within a show for our major team title sponsors.
Sergio Guevara founded and runs the Oxnard Chapter and serves at the Director (In-Training).
Justin Lohorn is our Recruiting Director (In-Training). He is the newest addition to the leadership circle and will be responsible for recruiting and training our probation members until they have reached full membership status.
Chris Uclaray is our Hawaii Chapter Director (In-Training). Chris will lead the Hawaii Chapter at meetings, shows, events and be responsible for recruiting and continued growth of Hawaii.
Charleston Penesa has stepped into leadership as a Co-Leader in our Nevada Chapter (In-Training). He will take on responsibilities such as recruiting and logistics and assist Archie.
Christian De Jesus is the Northern California Chapter Director (In-Training). He is responsible for recruiting, training, educating and leading the re-birth of NorCal.
Geoff Tuner is the Chapter Director of the Eastern part of the USA who will train, educate, expand and lead by example our East Coast Chapters.
Trevor Hahn is the Chapter Director of Southern California (In-Training) who will train, educate, expand and lead by example the next generation (27th and on) of Hybridz.
Ryan Ragusa is the newest addition to our leadership in 2021. He will be Co-Leading the East Coast Chapters who will train, educate, expand and lead by example our entire Eastern region.
There are many other Hybridz & Hunnyz who have and continue to contribute to our team; Team Hybrid appreciates and thanks those members for all their effort and dedication.
The word "Hybrid" means: crossbreed between the two species according to the Webster's dictionary.
This is our theme: Crossbreeding of engine swapping. Crossbreeding of a variety of body kits styling, rims, suspension, brakes, mobile audio and extracting different parts from the major Japanese, European & Domestic car-makers (Toyota, Lexus, Acura, Honda, Nissan, Ford, BMW, Mercedes, Porsche, Lamborghini, etc.) as well as specialty aftermarket manufacturers. Crossbreeding a variety of interiors, exterior paint colors, and graphics. Crossbreeding a diverse Team with every make of car ranging from Honda, BMW and Lamborghini. Crossbreeding of ethnicities of Hybrid members/hunnyz.
This combination of many different members and cars is a rare occurrence in the Import Teams. Unlike the teams of today, Team Hybrid is a relatively lasting and strong in their ties due to the everlasting Hybrid luv among the members.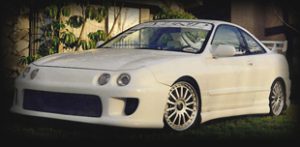 Throughout the existence of Team Hybrid, the organization has won over 5000+ trophies and awards. Team Hybrid cars have been featured in various magazines/DVD's throughout the United States, Canada, Australia, Mexico, Brazil, Japan, Russia, and Europe. Team Hybrid vehicles not only attend car shows such as Motion Auto Show, Formula D & Motor Trend Auto Show, Team Hybrid vehicles have also attended consumer and trade shows such as the Greater Los Angeles Auto Show, CES, and SEMA as well as toured with major OEM manufacturers like Toyota throughout the US. At these shows, Team Hybrid represents itself and its sponsors in the utmost professional manner. Not only do Team Hybrid vehicles physically represent in the United States, Team Hybrid vehicles have also been shipped to foreign nations to attend sponsored races as pace cars.
Putting it simply, the legendary tradition of Team Hybrid has been blessed throughout the years and will continue to grow and prosper. Our team model and philosophy has truly been the most original and one of a kind. Not only is it measured by our success, but by the various import teams out there modeling themselves after us or asking us for guidance in their organization. We have our own way of managing this team and will never be like X Crew or Y Team. Our members believe in the tradition James and the other co-leaders have envisioned. We've had our ups and downs like any other Team, but because we truly believe in ourselves along with the President's everlasting faith in our Team, we stay true to our game. This Team has become a second family to all of us now and we will grow together not only in the import scene, but in life as well.
May our 27+ years of legendary tradition continue making history…

James Lin