You've seen it at SEMA, you've seen it at SpoCom, and the streets of Las Vegas. Now see it in detail in January's issue of PAS MAG!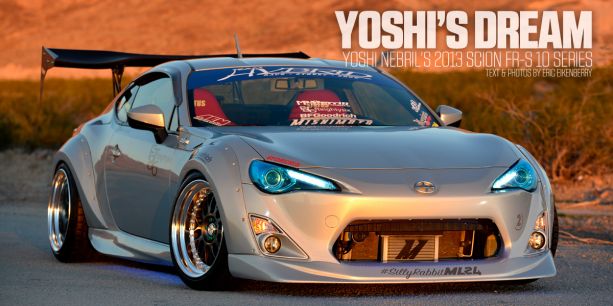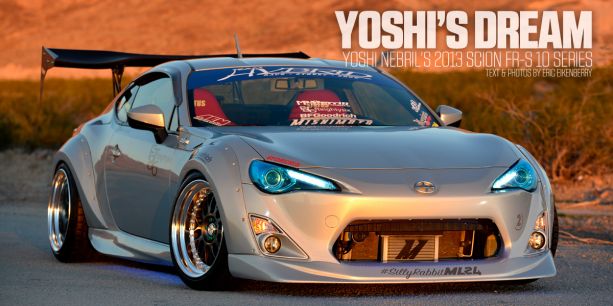 The Monstrous Product of Vivid Imagination.
That is your automotive dream? To go faster than anyone else? To go lower, or make sparks fly from your undercarriage? To win trophies at shows, or garner massive amounts of Internet praise? Whatever the case, we sincerely hope you follow it with the same level of devotion that Las Vegas resident Yoshi Nebril has in pursuit of his dream.
For Yoshi, it's taken a perfect storm of influences coming together to help him create "Project Kaiju," an effectively modified 2013 Scion FR-S Series 10 limited edition coupe. He has combined societal and parental conditioning with his own vivid imagination, and paired it with a healthy dose of Hollywood magic to envision a new monster.
"I wanted to build a monster of a car," he explains. "I wish I could have called it Godzilla, but that name was taken by a Nissan Skyline. With some thought and a couple of hours surfing online, I stumbled upon Kaiju, which in Japanese refers to a strange beast or unknown amphibious creature."
"Godzilla, King Kong, Mothra and the Loch Ness Monster are all examples of a Kaiju, but it's the movie Pacific Rim that helped me figure out what kind of Kaiju my car is. It's a Category 5 (hence the KAIJU5 vanity plate), and is derived from a hammerhead shark. The movie monster is dark grey with blue eyes and blue features," Yoshi points out. "It holds a wide stance and high tail. The rest is history."
"All monsters are bad (at least that's how we think of them), but Kaiju to me has a bit of a different meaning. To me, the car is a Kaiju, and a reflection of the spirit of the builder. It's the builder with the monstrous spirit the car actually reflects."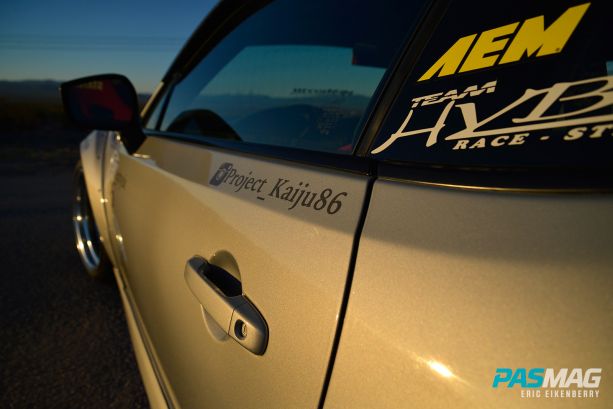 While Pacific Rim director Guillermo del Toro's fictional creatures from another dimension may have lent concept and shape to Yoshi's project, it was another hybrid of sorts that assisted his dream: Team Hybrid.
Yoshi joined the well-known team in August 2012, and through constant exposure to his teammates Jacob Sabian, Brian Camacho, Archie Concon and James Lin, he saw firsthand some of the team's best builds on the West Coast. These experiences and interactions helped light a fire in him that had been smoldering for years. You see, Yoshi's father, years earlier, had built everything from Datsuns and BMWs to an Acura Integra GSR and several Civics, all while keeping busy as a single parent. Yoshi, himself has three children and, with the help of his wife Tisha, he's been able to follow in his father's footsteps.
Check out the article at PAS MAGAZINE!