Bowie's 1st Magazine feature!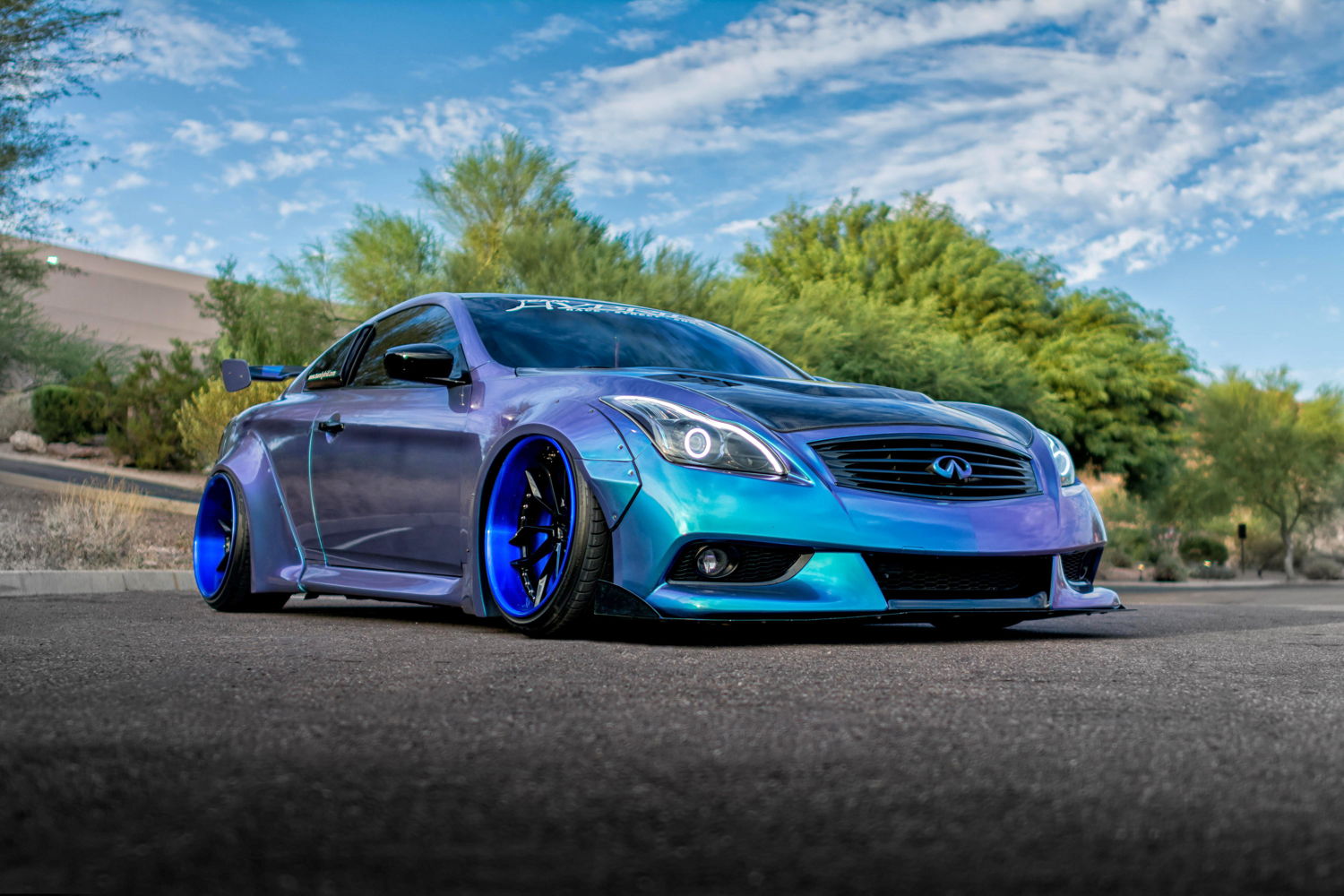 Team Hybrid and the man who started it all way back in 1995 James Lin, have indeed come a long way since. From their humble beginnings in a time when resources and information weren't as easily available as they are today, they've journeyed through a multitude of challenges in between of course their long list of awards and achievements, and become the highly acclaimed organization with an incredible 4000 plus trophies (and counting) to its name.
Avid followers of Hypertune would definitely recall the bold and distinctive trademark of Team Hybrid's show stopping rides which we were privileged to feature on more than one occasion in recent issues, among them Sergio Guevara and his 370Z (Oxnard Chapter Director), Archie Concon and that sensational Evo coupe. Both these Team Hybrid examples, each with substantial infusion of sponsors from familiar names and brands up in the States, embody all the hallmarks of Team Hybrid.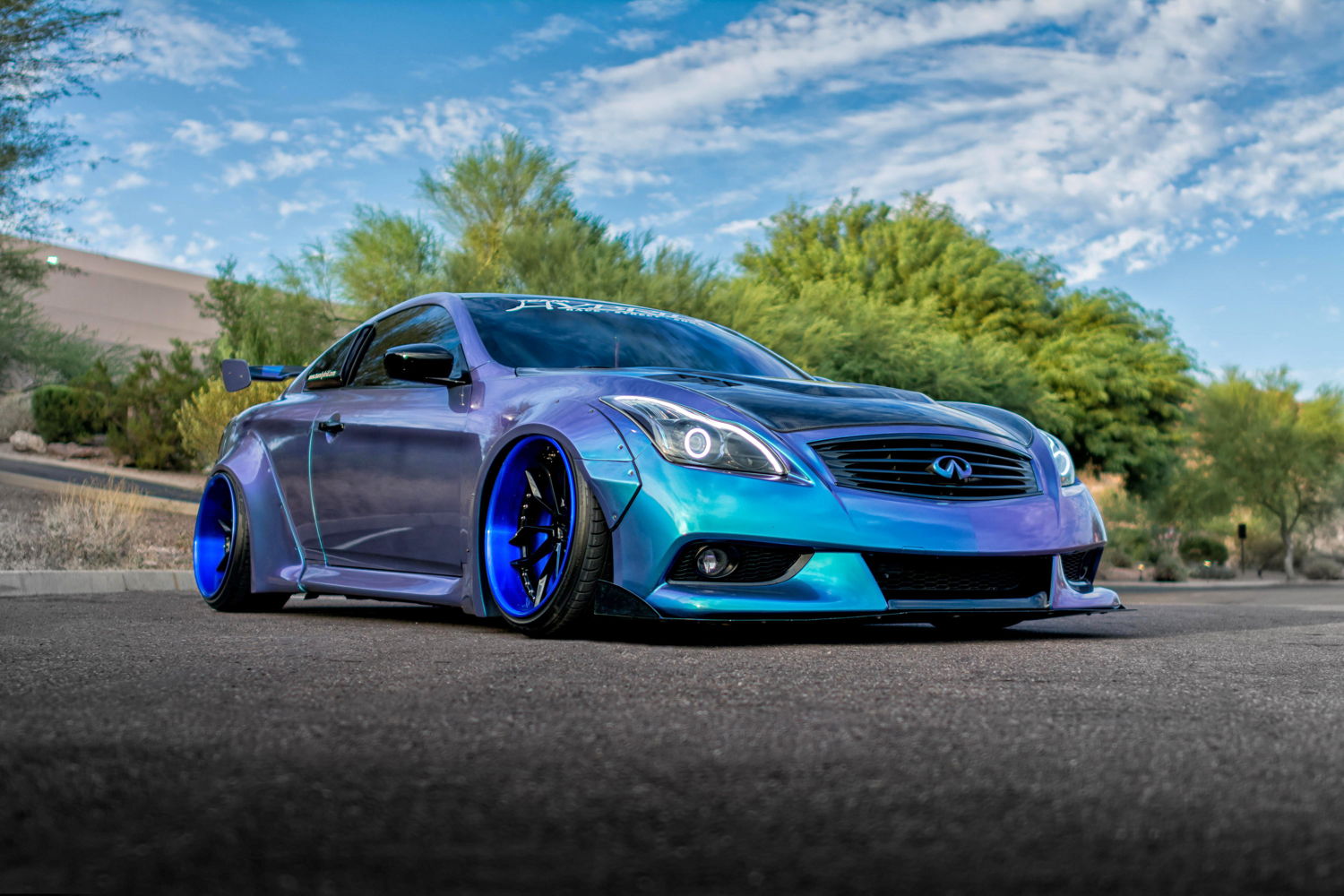 So here we are then, honoring our mutually beneficial collaboration we present the Team Hybrid Infiniti G37S owned by one Bowei Zhu – a bonafide car fanatic from Guangzhou China who went to the US to pursue his engineering degree. Here's the ride feature from the man himself, although as per the allocated space we had to trim it down a little.
My first car was in my freshman year, I got a 2004 BMW 545. It's a sport sedan with 4.4 liter V8 engine. I had it for a little bit over 6 months. I start doing some small modifications on the car since day one, however, the car was too old and keep giving me problems. I sold the car and start looking for something that will be more reliable and have more potential for cool modifications. After some research, I went with the 2008 Infiniti g37 coupe. This car has the famously reliable 3.7 V6 Nissan VQ engine with 330 HP, and most importantly, a very sexy look.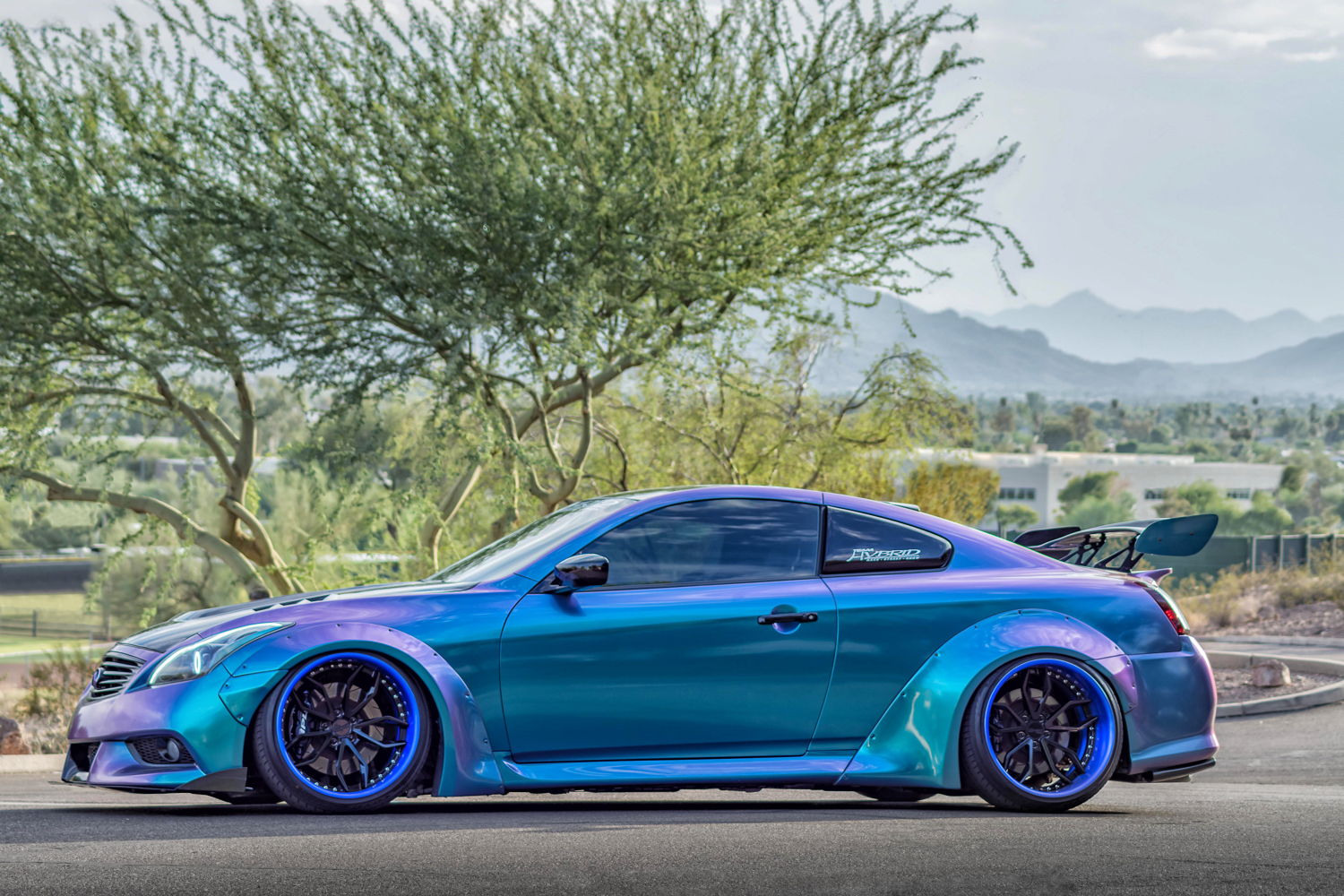 The first modification that I done to the g37 was painting the rims, and adding a rear spoiler. I was so satisfied with it after I did that change. I couldn't believe that such a small modification can change the car that much. After that, I start going crazy with modifying the car. Every day after I done with school, I will run straight to home and start looking at YouTube or forum to learn how to modify my g37. I was doing everything I can at my garage. However, if there is something that I will need a lift or some professional tools to do, I will go to the local body shop and ask for help. This is also how my met my current business partner, Chen. He was working at a body shop locally. Some modification that I was not able to do it myself, I will take it over to him and have him help me with it. With his help, my g37 game got to a whole new level. Two years later, he jumped out of the body shop that he was working at, and we started our own custom body shop, Tempe Collision Center also known as TCC custom.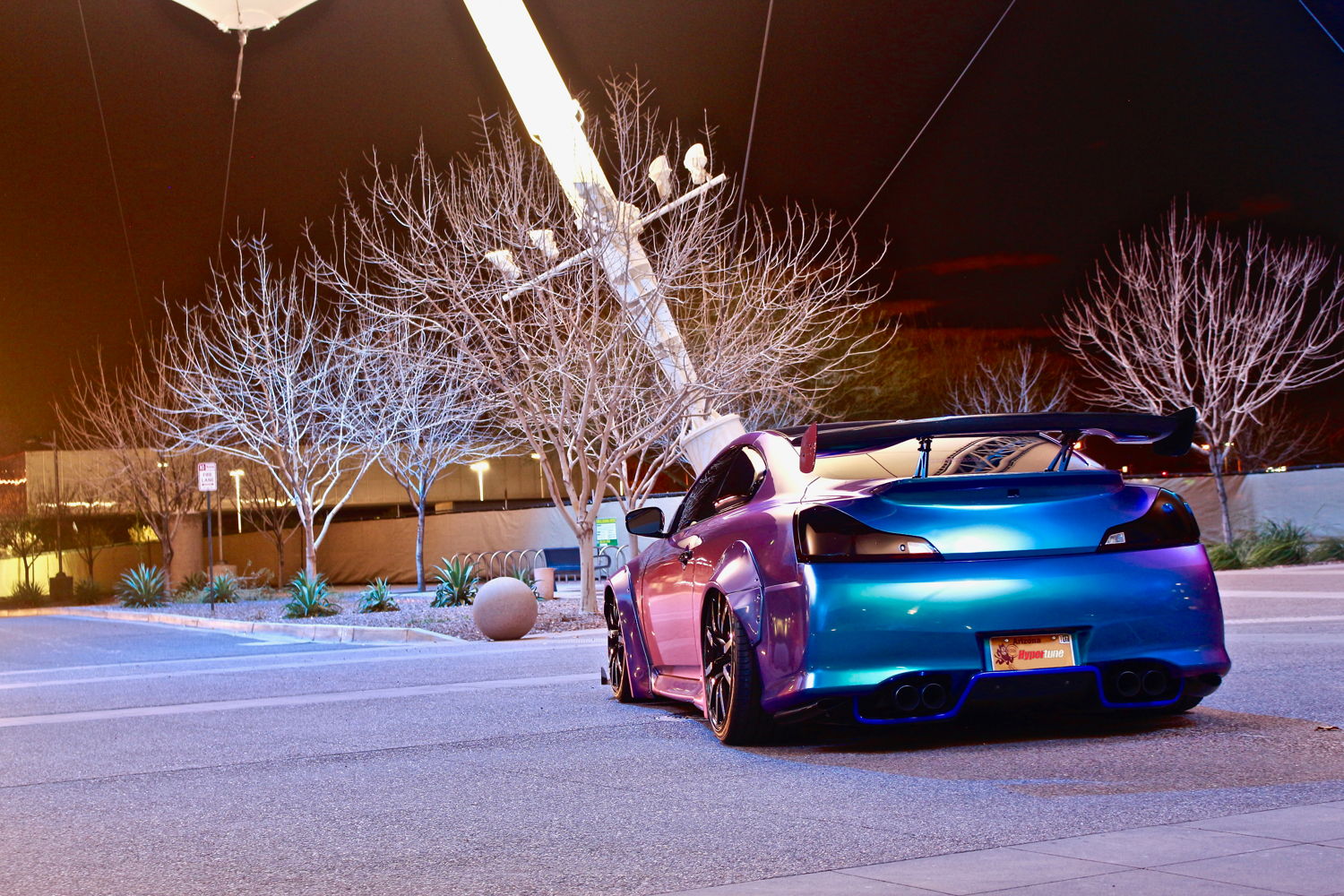 After I start running the body shop with Chen, I had a lot more resources to learn and work on cars. This opportunity helps me a lot in modifying my car. As a body shop that does a lot of performance cars, we host a track day event every year for our friends and customers. We will rent the whole track for a day, and just have everybody come out to the track and have fun.
Therefore, at the very beginning, I was modifying car my g37 to make it more suitable to race on the track. I had put racing suspension on the car to improve the stiffness, and I used a full set of under brace to reinforce the sub-frame and rear differential to reduce body roll on race track. Which made my g37 handle corners very well. Braking is also a very important part of racing. I upgraded everything on my car that are related to brake, stainless steel brake line, four-piston caliper, racing brake pad, slotted rotor, racing brake fluid and so on.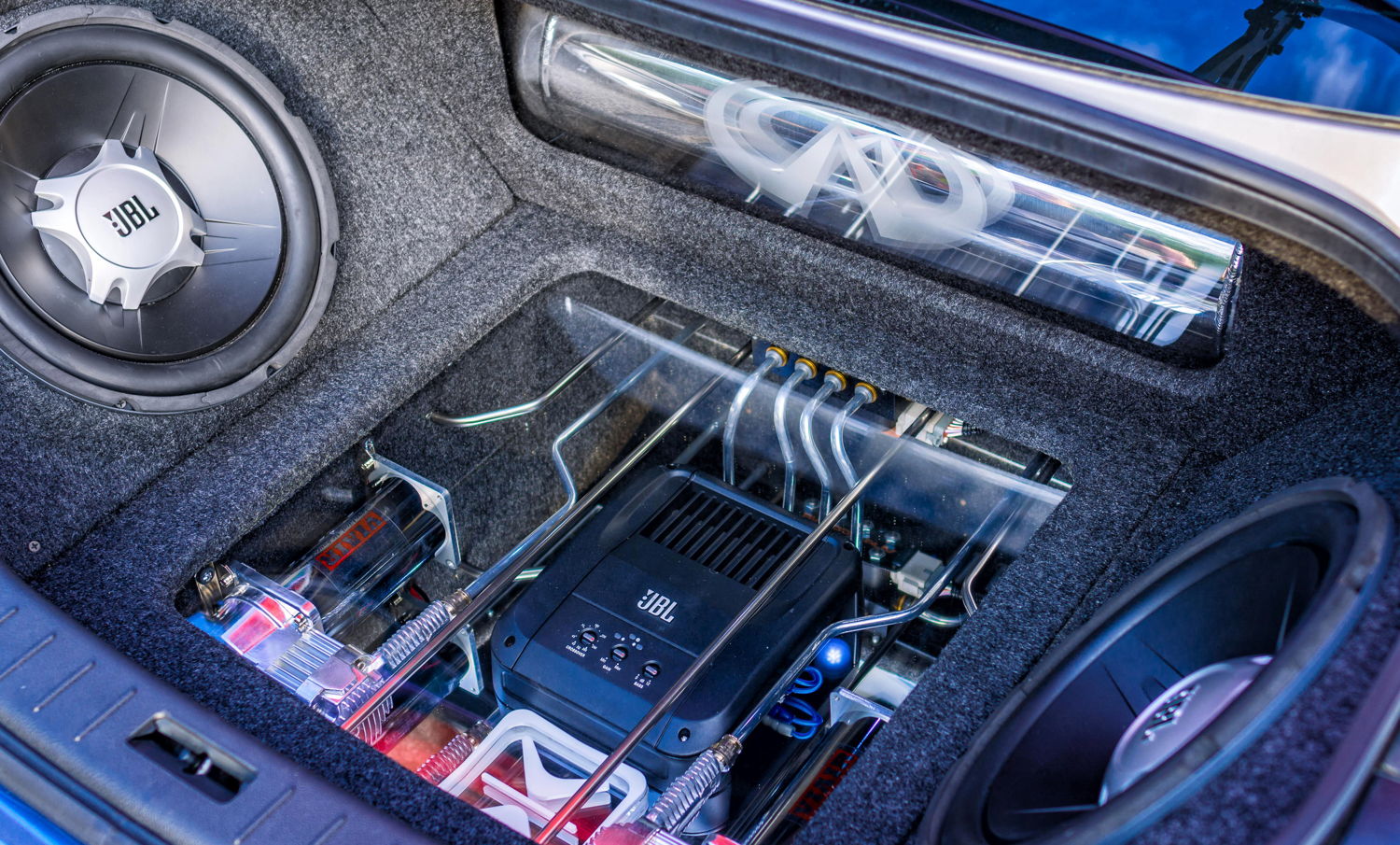 When the Liberty Walk wide body cars hit on SEMA back in 2015, everybody start talking about those wide body style car, so did I. I start looking into those wide body kits, and luckily Liberty Walk does make a wide body kit for g37. So, I decided to give it a try. After I put the Liberty Walk wide body kit on my g37, my car start shifting away from the track and turns it into a show car.
Thanks to my Team Hybrid family, Founder and President James Lin, Oxnard Director Sergio Guevara. Hybrid Luv to our team title sponsors Meguiar's, Mishimoto, NRG, Whiteline, Amsoil, and K&N.
So there you have it folks, the very passionate Bowei Zhu and his exceptional G37. Check out the terrific Team Hybrid website at www.teamhybrid.com for more info.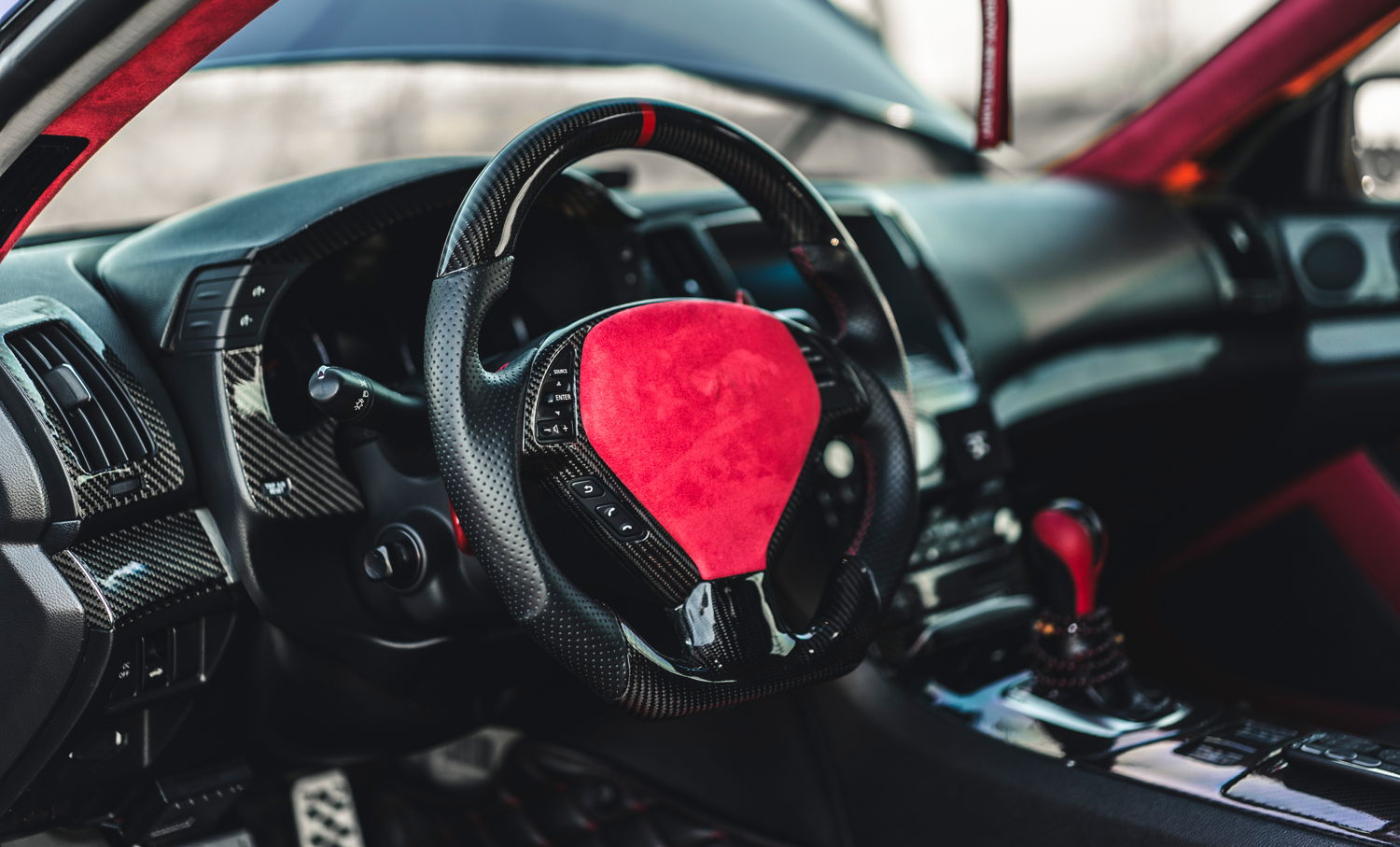 Hyperfacts!
Car: 2008 Infiniti G37S Coupe
Engine Mods: Stillen Gen 3 Long-tube Cold Air Intake, Stillen racing Header, AAM Competition Non-resonated down pipe, Custom Mid-section With Magnaflow Muffler, GT-Haus Meisterschaft G37 Muffler, Cusco Sway Bar, Carbon fiber Engine Cover
Suspension & brakes: AccuAir Air Ride with E-Level Management System, Custom Paint IPL Caliper, High Performance Slotted rotor
Exterior: Liberty Walk Wide Body Flare, OEM Infiniti Performance Line (IPL) Body Kit, Darwin Pro Carbon Fiber vented hood, Custom Made Trunk Lip Spoiler, Full Car Wrap In Oracal Turquoise Lavender, Ultra Racing Under Brace Complete Set, AeroFLow Dynamics Front Lips, TS-Style Carbon Fiber Rear Diffuser, Carbon Fiber Roof Spoiler, Carbon Fiber GT Wing, Custom Made G37 Side Window Cover, CMST two piece forged rims
Interior: Ego full custom interior with Red Suede and Diamond Stitches, Custom Made Carbon Fiber Steering Wheel, Custom Made Carbon Fiber Shift Nob, Custom Made Leather Floor Mat With Diamond Stitches, Custom Made Leather Hand Rest With Diamond Stitches, Carbon Fiber Overlap Interior Dash, Cipher Auto Racing Seats, Two 12 inch JBL speaker, Custom Build Trunk Set Up
Photographer: Modernchaos, RevRepublic
See the Full Article Here.