Team Hybrid's own Archie Concon gets his 2DoorEvo Featured in PAS Magazine's "Japan Special Edition". Along with the finest cars Japan has to offer, Archie was featured as the ONLY car from USA to grace the pages of this special issue.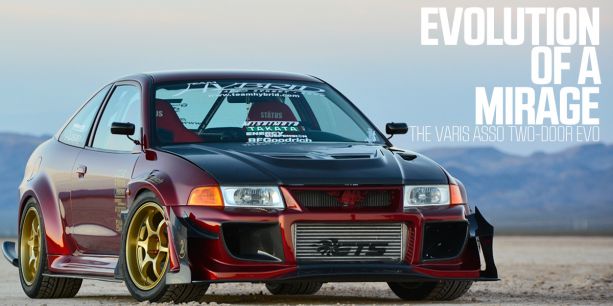 WRITTEN BY ERIC EIKENBERRY. PHOTOS BY ERIC EIKENBERRY | 20 JULY 2015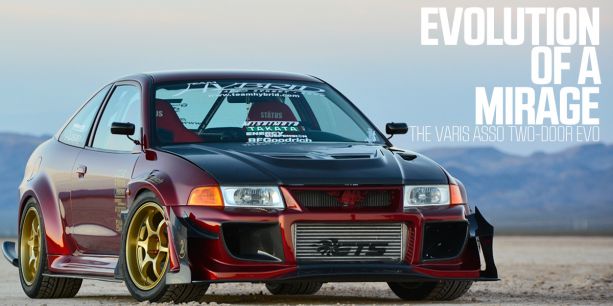 In the length of time I've known Archie Concon and his "Two-door Evo," I've owned six cars. Archie, on the other hand, has owned just one vehicle, but his constant tinkering has resulted in the 743 horsepower all-wheeldrive beast you see here – a sexymean mechanical creation that could span an epoch without blinking. It's hard to say whether it's sheer genius or madness which drives him. Perhaps it's a little of both…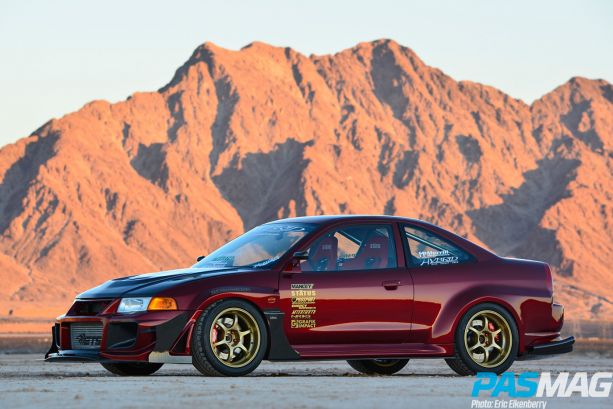 In the United States, the Lancer platform was given the uninspiring name "Mirage" and was essentially shipped as a low-budget FWD Civic-fighter. It never really caught on. Archie's two-door started life as a 2000 model-year, 1.8-liter, automatic-equipped econobox with a basic black interior. He bought the car and drove it for a year before cutting the springs and bolting on a set of 15-inch American Racing chromed five-spokes. Since then, Archie personally transformed the car between 2003 and 2006 into an all-wheel drive, two-door, left-hand drive street machine by changing nearly everything.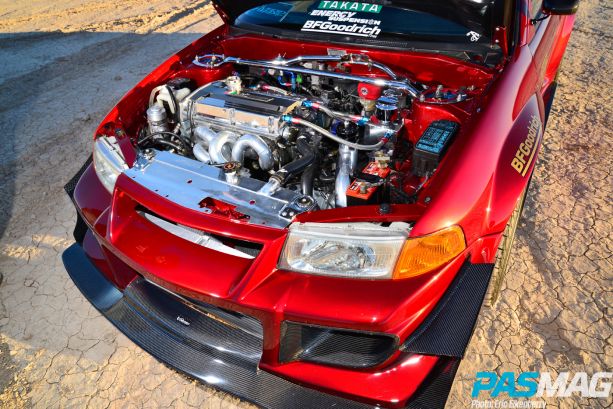 The original engine, transmission, suspension, cross members, seats, and axles were all junked. The rear drivetrain and cross-member came from an Evo VIII. There's an Evo IV transmission, an Evo V transfer case, front axles and hubs, and now, a TrevTec Motorsports 2.1-liter Evo VIII 4G63 race motor spinning a Manley Performance billet steel 3.7-inch crankshaft. Since the stock driveline components would never handle the power produced by igniting E85 fuel at 30 pounds of boost over Manley 10.5:1 compression pistons, there are Sheppard Racing components filling the tranny and transfer case, and a Quaiffe Evo VIII limited-slip helical differential inside an Evo VII rear housing.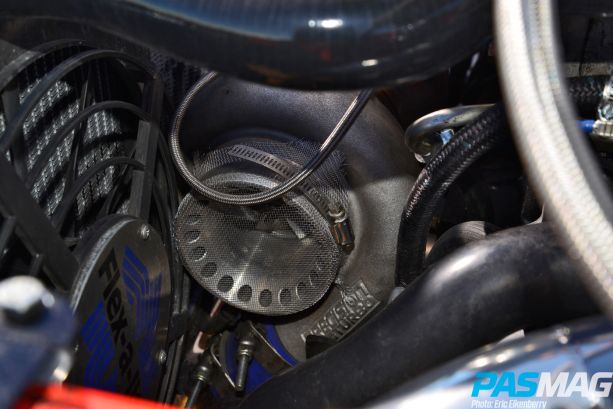 The rest of the engine bay spec sheet is equally drool-worthy: an ETS Precision 6262 dual ball-bearing turbocharger, Tial 1.7-inch waste-gate and two-inch blow-off valve, TrevTec intercooler pipe, custom downpipe and three-inch stainless steel exhaust, and a TrevTec intake manifold move gobs of air.
All of the supporting roles are filled by some other big names too; Buschur BF 272 cams, AEM cam gears, Cosworth head gasket, AMS race oil pan (this car is drag raced, clocking into the 10s on street tires), a Mishimoto radiator and Aeromotive Eliminator fuel pump
No nut or bolt is left unturned in Archie's quest for perfection. Monster-feeding FIC 2,150cc injectors pour more alcohol into this motor than a bartender in Cabo San Lucas during spring break.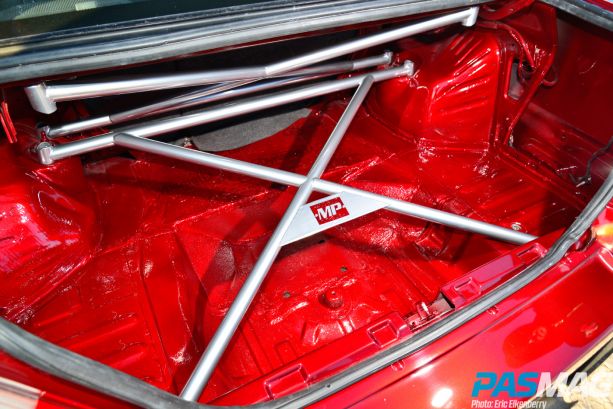 Likewise, the interior has been decked out with amazing gear, from the custom ceramic coated four-point cage and rear trunk supports, to the Status Carbon Kevlar racing seats, everything's been improved. One of Archie's favorite items is the OMP Tommi Makinen steering wheel. Evo guys know the name by heart.
While the rest of the world received thinly disguised rally cars in the form of the first seven generations of the Lancer Evolution, we were stuck with the Mirage. It's completely understandable that someone would eventually build us what Mitsubishi would not, but what sparked Archie's passion?
"One of the reasons why I wanted to do this project came from the movie 'Who Am I' by Jackie Chan," says Concon. "It honestly motivated me to do a replica of that car. I was disappointed I couldn't buy it, so I checked into what it would take to build it. At that time, I already had the Mirage and didn't even know that the chassis was based on the JDM Evo IV to VI cars."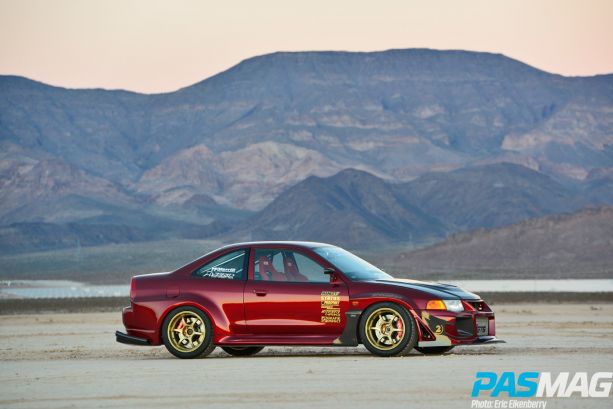 This led directly to a lot of garage time spent with his arms up to his elbows in grease and grime as he built Version 1.0 by himself. All of the effort was worth it when he claimed the coveted Builder's Award handed out by Mitsubishi executives themselves at their show.
"They told me they were just discussing whether they should build a two-door old school Evo the week before the show, and then I showed up!" Concon exclaims.
Cost of hand-converting a Mirage into an Evo? Very expensive. Beating Mitsubishi-USA to the punch by creating your own two-door, left-hand drive supercar? Priceless!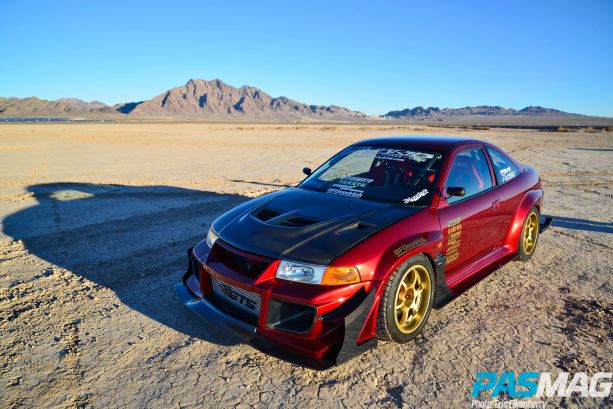 The exterior refresh was as torturous as cobbling up the underpinnings. Step one; obtain ridiculously expensive body kit not made to fit your car. Step two; cut it all to pieces. Step three; painstakingly reassemble it like a life-sized jigsaw puzzle.
"The ASSO kits are only made for Evo V and VI four-door cars," Concon explains. "I had to convert my front end to a four-door, meaning I had to use Evo VI headlights, corner lights, and my radiator support bar. Then the fenders had to be restructured where they meet the doors to have the perfect curves to line up to the doors. The seven-piece rear fender overlay had to be molded into two pieces because I don't have the two extra doors in the back. My body guy at Mad Kustomz had to recreate the body lines on the back where the body kit was molded to match the rest of the body lines of the car."
Archie is the very first complete Varis ASSO kit installed on a Mirage in the US, and while he's justifiably proud of the body kit, he's over-the-moon about the headlights and tail lamps.
"They're Stanley, man!" he shouts. "Check it out, get a shot of where it says 'Stanley' on them!"
This should warm the hearts of anyone who's ever browsed an internet forum searching for that elusive JDM part they simply had to have to complete the perfect build.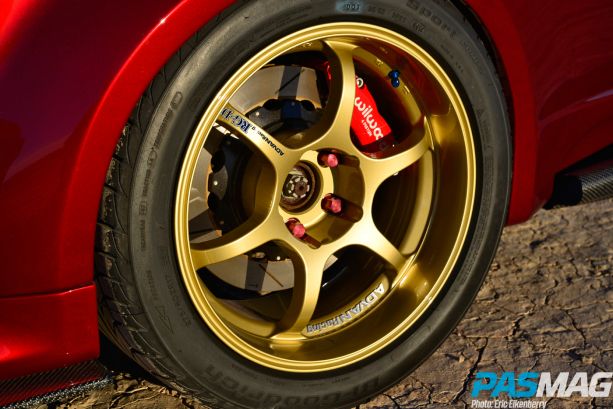 While most of the control arms and cross members come from an Evo V, the brakes are modern Wilwood six-piston fronts and four-piston rears gripping two-piece rotors. The suspension? JDM Cusco Zero 2 coilovers for the EVO V and VI chassis, naturally. The wheels come from Advan, and the tires from long-time Team Hybrid sponsor BFGoodrich.
The meaty 275/40 17-inch tires add grip in every direction, however, when the hammer is dropped on the Exedy HD triple-disc clutch, this Evo lights them up like Ken Block was filming the next Hoonigan installment.
Driving this thing is like owning a time machine. If you want to disappear from one point and reappear off in the distance, push the pedal on the right all the way to the floor and hang on. Thrust is instantaneous and unrelenting, until the rev limiter cuts the fun in the first three gears. That much power on tap from a license-plate wearing street vehicle is absolutely corrupting. But owning the same car for 13 years? Why didn't he choose any number of moreglamorous cars?
"I get that all the time," Concon admits. "'You should've just got an Evo, or better yet, a GT-R for the amount you spent and the work done on your Mirage.' It's just not the same, I've owned an Evo VIII and I tried getting into it, but I can't."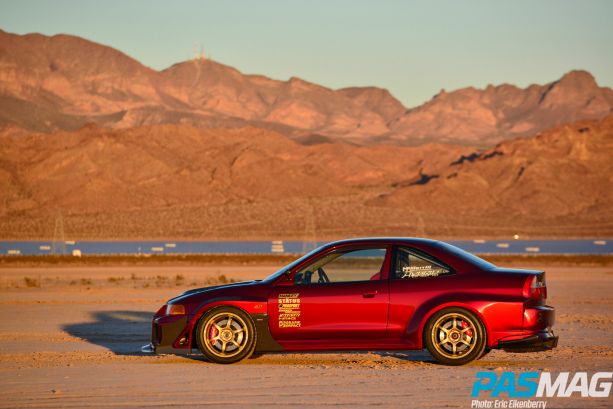 This non-stanced bruiser has a higher purpose now.
"I fell in love with the aggressive time attack look, and I will be tracking the new setup and am finished with drag racing," says Concon. "I reached my goal of having a 10 second show car, so now it's time to just have fun at the track."
We say bravo! From street to show to strip to track, Archie's done everything to do, won nearly everything worth winning and will be tackling the daunting task of obtaining his competition license soon. Look for the two-door Evo at a racetrack near you soon. And when you see him, don't forget to shout out, "Nice Civic!" He really likes that.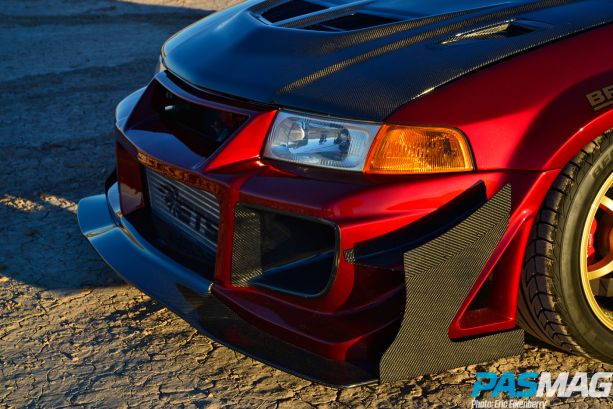 ESSENTIALS
Owner: Archie Concon
Location: Las Vegas, NV, USA
Vehicle: 2000 Mitsubishi Mirage
Built By: Archie Concon, Mad Kustomz
Car Club: Team Hybrid
Engine: TrevTec Motorsport Mitsubishi 4G63 2.1L I-4
Horsepower: 734 awhp / TORQUE: 603 lb-ft
ENGINE
TrevTec Motorsport 2.1L Evo VIII 4G63 race engine
Manley Performance (billet 3.7-inch crankshaft, Turbo Tuff long rods, 10.5:1 pistons, stainless steel valves, titanium valve seats & retainers)
ACL (race bearings, balance shaft eliminating kit)
Cosworth (Evo VIII race head gasket, Stage 5 ported and polished head)
KIGLYS valve springs
Buschur BF 272 race cams
AEM adjustable cam gears
Mitsubishi (Evo VIII timing belt)
ETS (Turbo Kit, 4.5-inch front-mount intercooler kit, Precision 6262 billet dual ball-bearing turbocharger)
Tial (1.7-inch wastegate, 2-inch blow-off valve)
TrevTec Motorsports (intercooler pipe, custom down-pipe, custom 3-inch stainless steel mandrel-bent exhaust, intake manifold)
AMS race oil pan
HKS (oil cap, radiator cap)
Mishimoto Evo V radiator
FIC 2150cc fuel injectors
Aeromotive Eliminator racing fuel pump
Sparktech ignition coil on plugs
ARC ignition cover
Cusco JDM Evo VI radiator diffuser
DRIVETRAIN
Mitsubishi (JDM Evo IV transmission w/ Stage 3 Sheppard Racing upgrade, JDM Evo V transfer case w/ Stage3 Sheppard Racing upgrade, JDM Evo VII rear differential w/ LSD, JDM Evo V differential mount, JDM Evo V differential brace, JDM EVO 5 transmission brace)
Quaife Evo VIII LSD
Driveshaftshop custom 2-piece driveshaft JDM EVO 5 front axles
Exedy HD triple disc clutch kit
CHASSIS / SUSPENSION
Mitsubishi (JDM Evo V front axles, JDM Evo V control arms & knuckles, Evo VIII rear subframe, Evo VIII suspension linkage, JDM Evo V front crossmember, JDM Evo V front upper control arm, JDM Evo V rear upper arm bushings, JDM Evo V front lower arm bushings, JDM Evo V tie rods, JDM Evo V trailing arms, JDM Evo V lower control arms)
Energy Suspension complete bushing kit
Cusco Zero 2 coilovers
EXTERIOR
Custom Kandy Deep Oak Burgundy (50% Kandy Apple Red and 50% Kandy Gold) by FX Matrix Paint Company
Mitsubishi JDM Evolution V/VI front end conversion
Stanley JDM headlights
Varis ASSO (front bumper, carbon fiber front under diffuser, Version 2 carbon fiber front canards, GT fenders w/ carbon fiber canards, rear fender overlays, carbon fiber vortex generator, carbon fiber rear diffuser)
INTERIOR
Takata (4-point harnesses, shoulder pads, racing harness reinforcement plates, racing harness eyebolts)
Works Bell (boss short steering hub, quick release)
OMP Tommi Mackenin steering wheel
Custom weld-in 4-point roll cage w/ harness bar (ceramic coated) ∂ Custom trunk cage and support bars (ceramic coated)
Custom suede upholstery
Status red carbon Kevlar racing seat, racing seat brackets & rails
Dynamat insulated cabin ∂ Mitsubishi JDM MIVEC 10,000 rpm gauge cluster
WHEELS / TIRES / BRAKES
Advan RG-D wheels – 17×9.5 +15 (f/r)
BFGoodrich Sport Comp-2 tires – 275/40 R17 (f/r)
Wilwood (BBK race system – 6-piston(f), 4-piston (r), braided stainless steel brake lines)
ARP extended hub studs
AUDIO / ELECTRONICS
Pioneer head-unit
Polk Audio (tweeters, reference component speakers)
Odyssey battery
Cusco battery cut-off switch
SPONSORS
Mad Kustomz, Lesa's Auto Body Supplies, Manley Performance, TrevTec Motorsports, Merrill Performance, TAKATA Racing, AMS Oil, Energy Suspension, Mishimoto, BFGoodrich, Meguair's, Status Seats, Highway Version, Mastermind North America, NRG Innovations, Pro Sport Gauges, K&N filters, GRAFIK IMPACT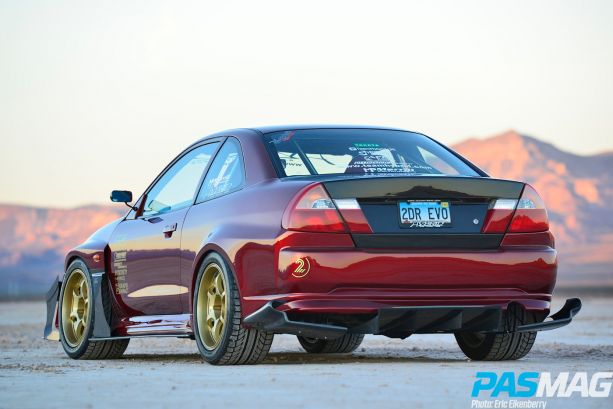 Archie's 2000 Mitsubishi Mirage-Evo is published in PASMAG's Japan Special Edition Issue, on newsstands between June 5 – August 31, 2015.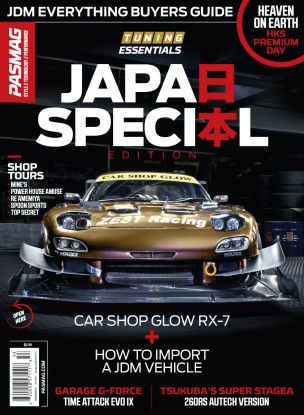 Entire Article can be found on PASMAG.COM