Congratulations to my BMW E36 for being featured on K&N's latest news section on their website.
K&N news title, "Fully Custom BMW 328IS E36 Owned by Team Hybrid President James Lin Blends Style and Performance."
http://www.knfilters.com/news/news.aspx?ID=4214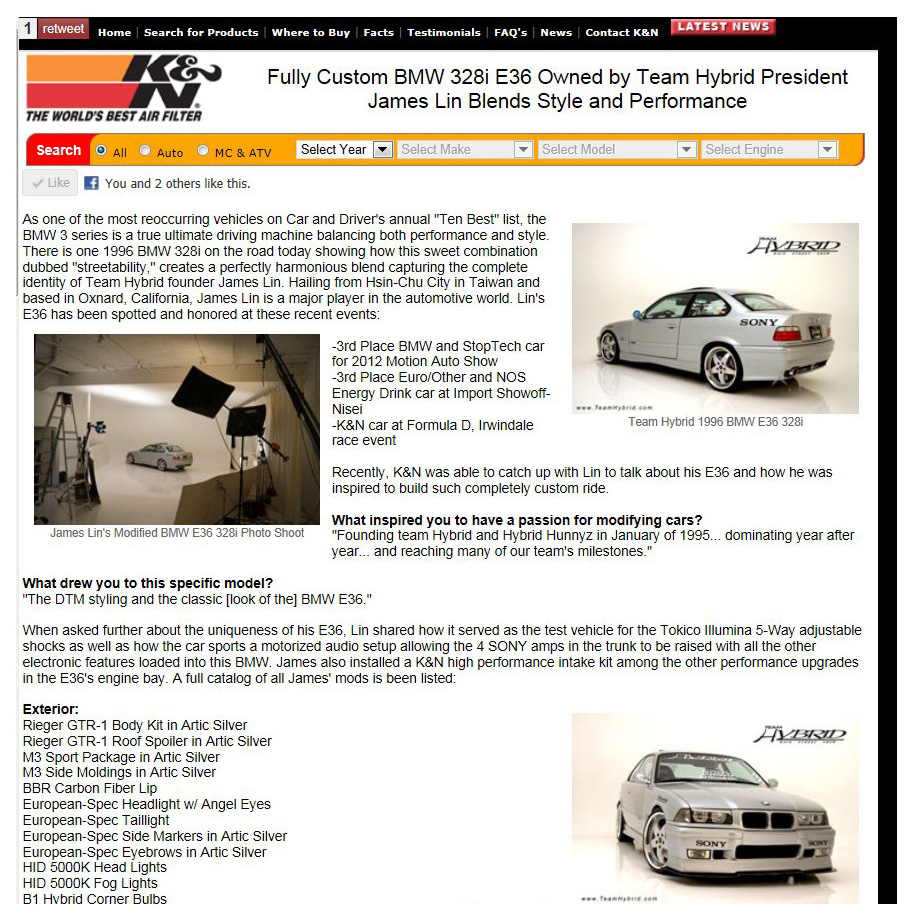 As one of the most reoccurring vehicles on Car and Driver's annual "Ten Best" list, the BMW 3 series is a true ultimate driving machine balancing both performance and style. There is one 1996 BMW 328IS on the road today showing how this sweet combination dubbed "streetability," creates a perfectly harmonious blend capturing the complete identity of Team Hybrid founder James Lin. Hailing from Hsin-Chu City in Taiwan and based in Oxnard, California, James Lin is a major player in the automotive world. Lin's E36 has been spotted and honored at these recent events:
3rd Place BMW and StopTech car for 2012 Motion Auto Show
3rd Place Euro/Other and NOS Energy Drink car at Import Showoff-Nisei
K&N car at Formula D, Irwindale race event
Recently, K&N was able to catch up with Lin to talk about his E36 and how he was inspired to build such completely custom ride.
What inspired you to have a passion for modifying cars?
"Founding team Hybrid and Hybrid Hunnyz in January of 1995… dominating year after year… and reaching many of our team's milestones."
What drew you to this specific model?
"The DTM styling and the classic [look of the] BMW E36."
When asked further about the uniqueness of his E36, Lin shared how it served as the test vehicle for the Tokico Illumina 5-Way adjustable shocks as well as how the car sports a motorized audio setup allowing the 4 SONY amps in the trunk to be raised with all the other electronic features loaded into this BMW. James also installed a K&N high performance intake kit among the other performance upgrades in the E36's engine bay. A full catalog of all James' mods is been listed:
Completely Custom BMW 328IS E36
Exterior:
Rieger GTR-1 Body Kit in Artic Silver
Rieger GTR-1 Roof Spoiler in Artic Silver
M3 Sport Package in Artic Silver
M3 Side Moldings in Artic Silver
BBR Carbon Fiber Lip
European-Spec Headlight w/ Angel Eyes
European-Spec Taillight
European-Spec Side Markers in Artic Silver
European-Spec Eyebrows in Artic Silver
HID 5000K Head Lights
HID 5000K Fog Lights
B1 Hybrid Corner Bulbs
Dual Way M3 Heated Side Mirrors in Artic Silver
Wraptivo Carbon Fiber Decals
Glossy White Decals by Graphic Impact
BMW 328IS E36 Engine Upgrades
Engine:
Racing Dynamic Carbon Fiber Valve Cover
Racing Dynamic Polished Strut Bar
BMW Grade Wrapped Carbon Fiber Radiator Cover
BMW Grade Wrapped Carbon Fiber Fuse Box
K&N Intake System w/ Carbon Fiber Filter
European M3 Polished Oil Cap
Mishimoto Aluminum Radiator
Mishimoto Carbon Valve Cap
Mishimoto Radiator Hoses
HKS Klasse Exhaust System
AMSOIL 10W-40 Premium Protection Oil
AMSOIL Differential: Severe Gear 75W-90
AMSOIL Manual Transmission & Transaxle Gear Lube
Clutch Masters 03041-HD00 FX100 Stage 1 Clutch Kit
James Lin's BMW E36 328IS Sports Custom Wheels and Tires
Wheels & Tires & Suspension:
Dresmann 3 Piece Rim
Front: 19 X 8.5
Rear: 19 X 8.5
BF Goodrich G-Force T/A KDW
Front: 215/35/ZR19
Rear: 215/35/ZR19
Brakes & Suspension:
StopTech Trophy Street BBK: 4 Piston Front (One-off KIT and only set in the world)
StopTech Trophy Street BBK: 2 Piston Rear (One-off KIT and only set in the world)
StopTech Drilled 2-Piece AeroRotors (F & R)
StopTech Stainless Steel Brake Lines
StopTech High Performance Brake Pads (F & R)
AMSOIL Dot 4 Brake Fluid
Tokico Illumina 5-Way Adjustable Shocks/Springs Suspension Kit
Energy Suspension Bushings
BMW E36 328IS Custom Interior Design
Interior:
Sparco Piuma Steering Wheel
Sparco Piuma Shift Knob
Sparco Piuma Pedal Set for Manual Transmission
Sparco Torino 2 w/ 3PT Sparco Double System Harness
Sparco Track Set Sliders
Sparco Seat Brackets
NRG Short Hub
NRG 3.0 Quick Release
Torasport Brushed Aluminum Dash Kit
Carbon Fiber Shift Boot
Carbon Fiber E-Brake Boot
Carbon Fiber Arm Rest
Carbon Fiber E-Brake
Suede Front Door & Rear Panel Inserts by Art's Customs
BMW Grade Wrapped Carbon Fiber Handles
Embroidered "Team Hybrid" Floor Mats
Relocated Climate Control
Relocated 18-Botton On-Board Computer
LED Ultra White Interior Lights
Team Hybrid Custom Audio/Video for BMW 328IS E36
Audio & Visual:
Sony XNV-770BT Double Din 7″ w/ Touch Screen, Navigation, DVD & Bluetooth w/ Remote
Sony XS-GTR1720S (2) Xplod GTR Series 2 – Way Speakers
Sony XS-GTX1641 (1) Xplod GTX Series 4-Way Speakers
Sony XS-GTR100L (2) Xplod™ 10″ 4-ohm Component Subwoofer
Sony XM-4S (2) Slim Series 4/3 Channel Amplifier
Sony XM-15 (2) Slim Series Class D Mono Amplifier
Sony XVM-B62 (4) Flush Mount 6.25″ LCD Monitor
Sony XA-R800C (1) Rear View Camera
Sony NSZ-GT1 (1) Internet/Powered by Google TV/Apps/Blu-ray Disc Player
Savv LBM – S5000 – Security Rear View Mirror Monitor w/ Remote
Custom 7″ Double Din Dash
Custom Rear Interior Flush Mount 6.25″ LCD Monitor into the Ash Tray Compartment
Custom Motorization for Sony AMPS (4pcs)
Custom Motorization for Sony Internet/Powered by Google TV/Apps/Blu-ray Disc Player
Stinger TRUE-SPEC Tinned Oxygen-Free Copper Line Wires and Cables
Stinger Power Supply
Stinger Power Converter
NRG Chrome/Silver Aluminum Washers and 10mm Bolts
Optima Deep Cycle Yellow Top Battery
LED Ultra White Lights
Clifford Keyless Remote Entry & Alarm System
E36 is also Wi-Fi Ready
Customized and Fabricated in Fiberglass Trunk & Trunk Lid Painted in Artic Silver/ Suede / Wraptivo Carbon Fiber Wrap Multimedia Audio and Video System by Al & Ed's Autosound
James founded Team Hybrid, a world leading automotive racing, street and show team in 1995. With his team, he has been dedicated to promoting and building a proud member base as well as founding the Hybrid Hunnyz models. K&N supports Team Hybrid and James's motto, "May our 17+ years of legendary tradition, philosophy, quality, innovation and management continue making import history…" K&N has been manufacturing aftermarket performance products for over 40 years and understands the importance of quality in performance. K&N high flow air filters and intake systems offer increased power as well as excellent engine protection, which for vehicles like Lin's E36 is crucial.
Find K&N products for your vehicle using the K&N application search then use the K&N dealer search to find a K&N dealer in your part of the world.