Congratulations to NorCal Chapter's Joe Bacigalupi's Voltex Wrx Wagon for being featured and written about on online website Carsxhype.com. When your hot, your hot like I've always said. For the exact link of the article, please visit http://carsxhype.com/2012/06/22/joes-subaru-impreza-wrx-shagon-wagon/
Joe's Subaru Impreza WRX Shagon Wagon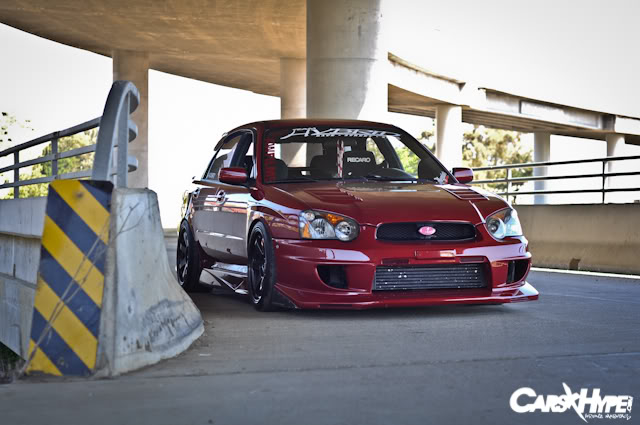 A lot of times the wagon bodystyle does not get the same respect that the sedan or coupe receives and is underestimated in both style and performance. Joe's 2005 Subaru Impreza WRX Wagon defeats all the stereotypes ordinary people have about wagons and Joe's wagon is an exceptional example of the potential that wagons have.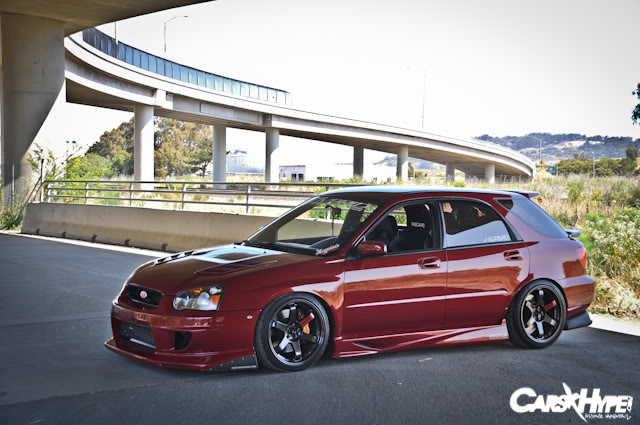 Purchasing the WRX brand new back in 2005, Joe had no plans of doing anything to it but to daily drive and bring his dog around town. One day his wife decided to give him a new set of rims, 17×7.5 Gram Light 57s, then after installing his new rims Joe said, " I thought the car looked terrible at that ride height so I installed Tein lowering springs ( which have since been replaced with the coilovers ) and from there on it's been all down hill." Maybe down hill was the wrong term used because the car is very close to perfect now and that wasn't expected.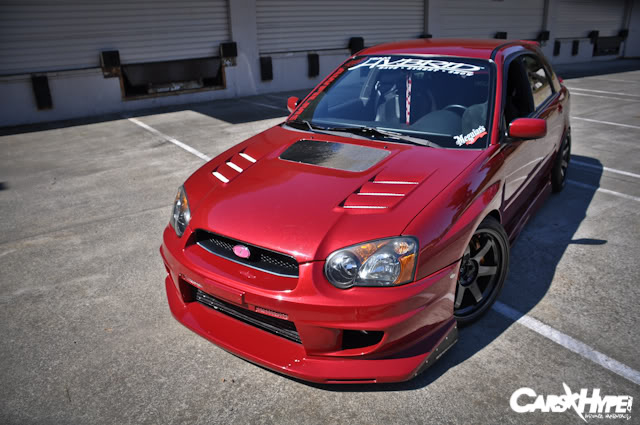 Personally 04-05 Impreza WRX's are a favorite of mine and this one is definitely done right! In some angles you see the aggressiveness from the vents on the hood, in others to the sexy lines of the side skirt. You also notice the sleek body lines from the sedan over fenders, roof rail deletes, and carbon fiber hoodscoop delete.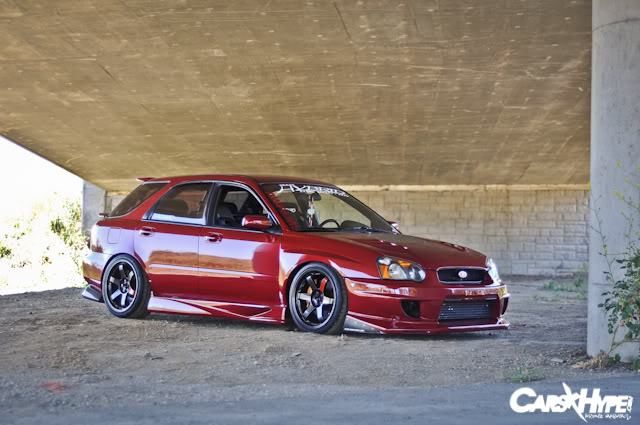 The Matador Red Mica is a great color choice in my opinion because it catches just the right amount of attention, not to bright a flashy but still eye-catching. Joe and his wife saw this color on a Lexus GS and both agreed it was a nice color. At also just so happens that he owned a red CRX, what a coincidence!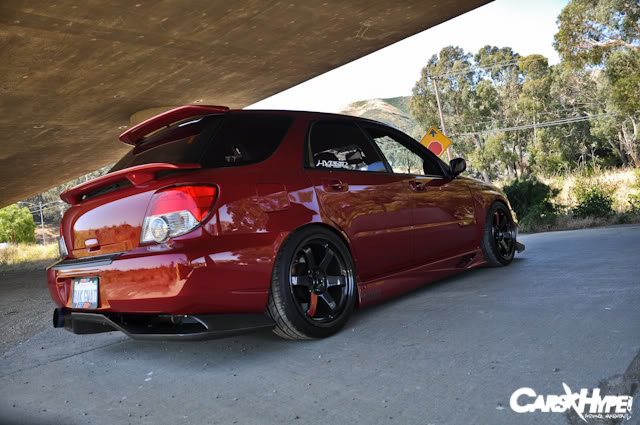 The 2 spoilers and diffuser work together perfectly finishing the aggressive look for the rear end.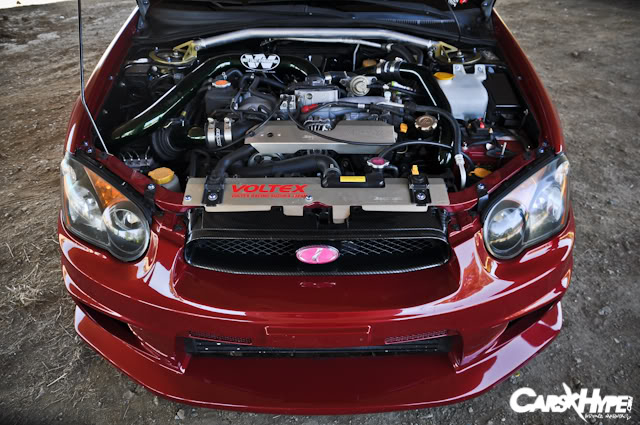 This EJ205 is pushing out 290whp 280tq but will be swapped out soon to make more power.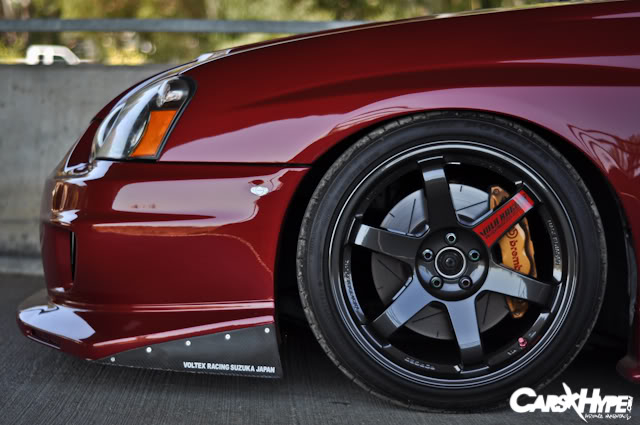 Aside from the Brembo Brakes behind the TE37SL's the subtle color scheme of grey/dark red work well together.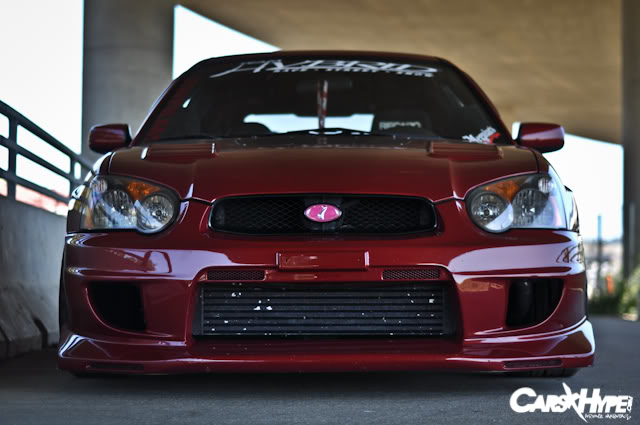 Joe's main goal was to create a neck breaker wagon that would easily stand out in a line up of cars. I say mission complete Joe, with form derived from function, this wagon is sure to break necks and backs as people turn around to do a double take on just how amazing this red wagon looks.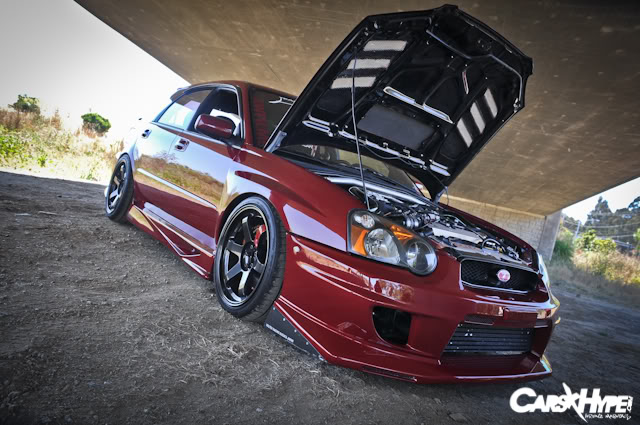 2005 WRX Wagon Specs
Engine:
Tomei ARMS m7760 turbo
Power Enterprise 800cc injectors
Walbro fuel pump
Perrin Stealth front mount intercooler
Perrin Big MAF
Perrin short ram intake
Hydrodipped intercooler piping in carbon fiber look, sprayed candy apple green over the top
Helix flex uppipe
Helix catted downpipe
GT Spec header V.1
Trust Ti-R PE full titanium catback exhaust
Cobb Accessport V.1
Custom map and tune by Mike @ GST Motorsports
Beatrush oilcap
Beatrush radiator shroud
Beatrush alternator cover
Subaru STi radiator cap
Exterior:
3 stage matador red mica paint job
Voltex front bumper
Voltex front undertray
Voltex carbon fiber rear diffuser
Voltex sideskirts
Voltex GT hood
Voltex hood scoop delete
OEM Subaru sedan front fenders
Custom widened rear quarter panels
JDM Subaru rainguards
JDM Subaru waist spoiler
JDM Subaru roof rail delete
35% tint all around
Suspension and Brakes:
Stance GR+ pro sport coilovers
Stance front camper plates
Stance rear camper plates
Whiteline front endlinks
Whiteline wagon specific front swaybar
Whiteline rear endlinks
Whiteline roll center adjustment kit
Cusco adjustable rear swaybar
Beatrush front upper strut bar
Beatrush rear upper strut bar
Brembo 4 piston front calipers
DBA 4000 slotted rotors
Brembo 2 piston rear calipers
DBA 4000, slotted rear conversion rotors
Rotora steal braided lines front and rear
FASTWRX.com rear conversion brackets
Hawk HP Plus brake pads
Custom alignment and corner balance by Wyman at Mach III
Rims and tires:
Volk TE37sl Diamond black 18×9.5 +22 rims, (only set in 5×100 in this width)
Bridgestone Potenza RE760 245/35/zr18
Project Kics neochro lug nuts
Interior:
Alpine INA W900 7″ touchscreen double din deck with Navigation, DVD and bluetooth, ipod adapter
Focal 165 KR2 6.5″ component set
Focal 100 KRS 4″ component set
JL Audio 10″ W6 subwoofer
Focal Solid 1
Focal Solid 4
Stinger red top battery , with custom circuit breaker
Custom fiberglass subwoofer box
Custom amp rack with red neon lighting
Custom A pillars , made to hold the Focal K2
Custom black suede , with red stitching interior ( a,b,c,d pillars, headliner , sun visors back seat, custom sub box, amp rack )
Recaro SPG driver seat
Recaro Evo 9 passenger seat , black suede with red stitching
Recaro seat brackets and sliders
WorksBell rapfix II quick release in red
WorksBell Splash short hub
WorksBell steering wheel lock
Vertex 20th anniversary deep core steering wheel, black with red stitching and lettering. 330mm deep core
Vertex shift knob
Apexi turbo timer with HKS harness
"Thanks to the Wifey for putting up with me and the build , thanks to Team Hybrid , Image Auto Body , Mach III , Mal, Mike , Kris and Dave." says Joe as he received a lot of support for throughout his build!