Congratulations to SoCal Chapter's Daniel Speilman's 2006 Twin-Turbo Ings+1 350Z for being featured and written about in www.Night-Import.com. For the exact link of the article, please visit http://www.night-import.com/2011/08/…-hybrid-z.html
Title of Article: Hybrid Z "Never Ending Authenticity"
Written by: William Lee

There is no 'back in the days..' when it comes to a team's reputation. What's current is current and most of us in the scene today will know about Team Hybrid. First off, if you are not familiar with this team, Team Hybrid is very well known in the automotive industry, not only in Southern California, but almost everyone in the US will know or heard about this team at least once. Established in 1995 by James Lin, the team has been representing at major car shows, sweeping almost every award category. But today, instead of explaining the history of this infamous team, I want to take this time to feature one of the member's ride, a ride that's more than just authentic parts, but with an overall outstanding execution.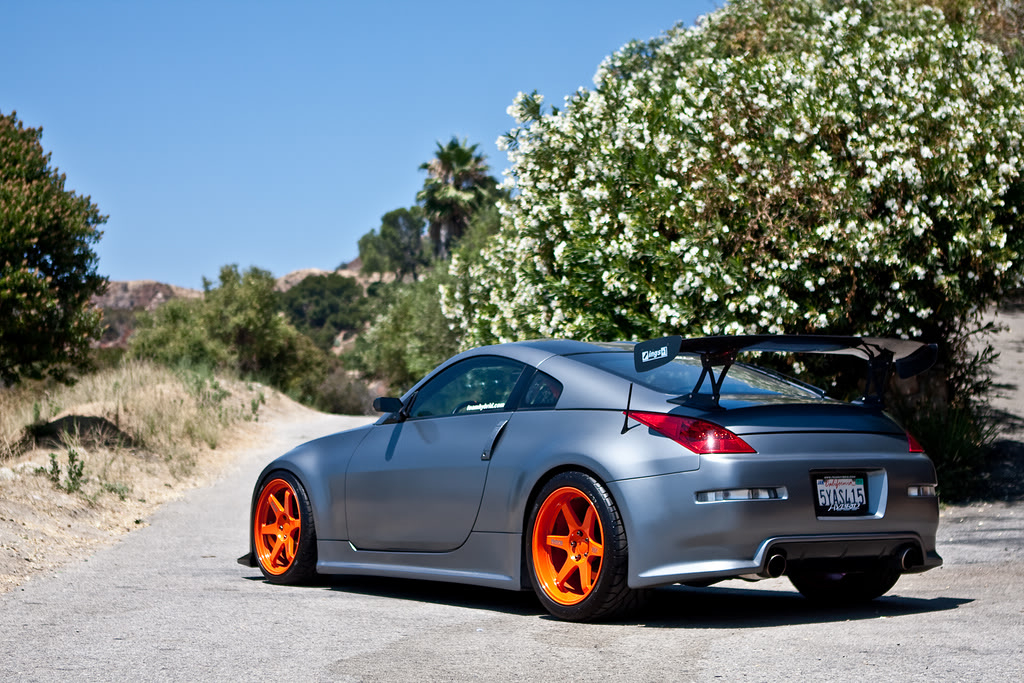 I first met Daniel Spielman, owner of this beautiful 350Z, at Fontana Nissan Meet in Fontana,CA. There were plenty of rides that dropped jaws from every angle.. To be honest, it was only the bright wheels that, but after talking to Daniel about his car, there was much more to it.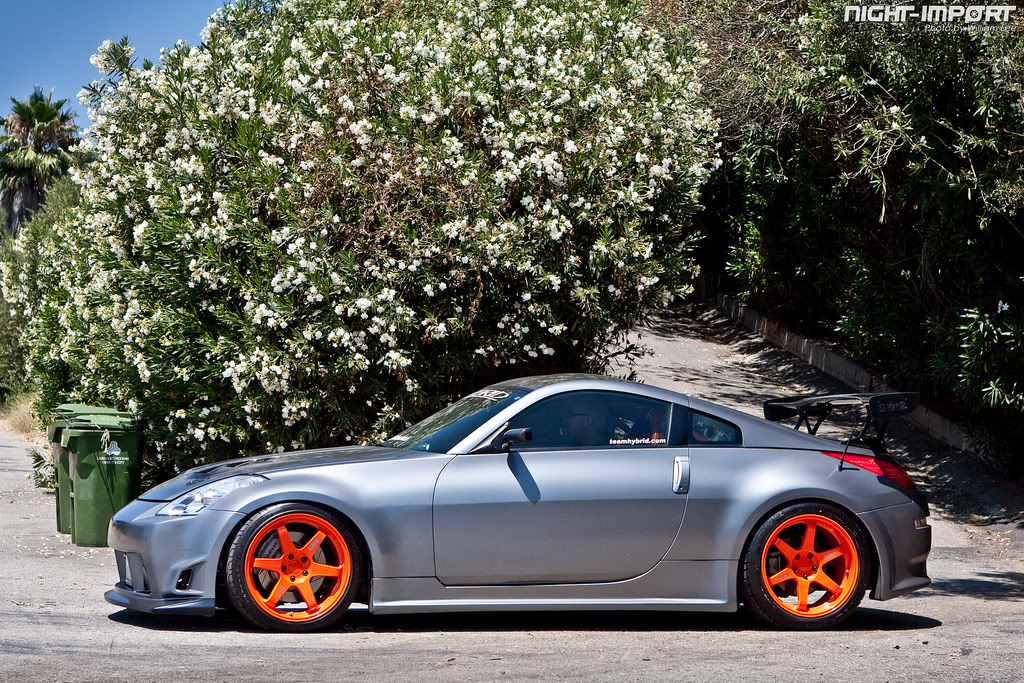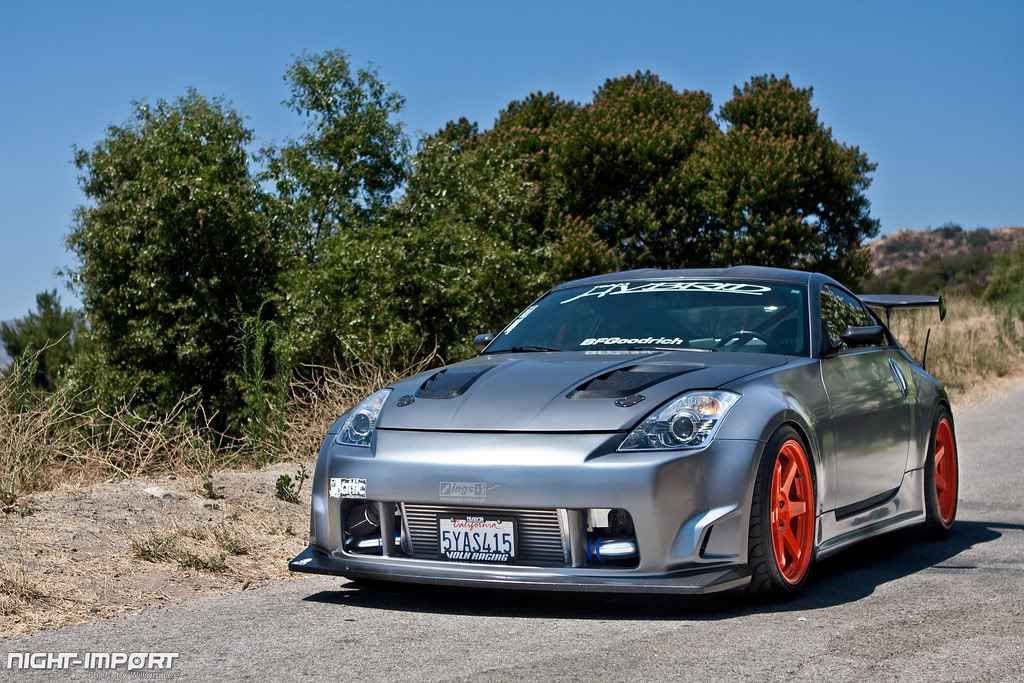 Only a few aftermarket companies design a favorable body kit for a specific make and model and from the few, our supporters Ings+1 have not disappointed us throughout the years. On this Z is an authentic Ings+1 N-Spec body kit with a Ings+1 Carbon Fiber High Mount GT wing. Is it different from many of the Zs we've seen before? Personally, Yes, but one might ask if it flows well overall? Once again, my answer will be, Yes.
Exterior
BMW Frozen Grey Paint Job
ings+1 N-Spec Body Kit
ings+1 CF Hight Mount GT Wing
CraftSquare TC-R Carbon Fiber Mirrors
Asuka Type 3 Double Sided CF Hood
Asuka Double Hump CF Roof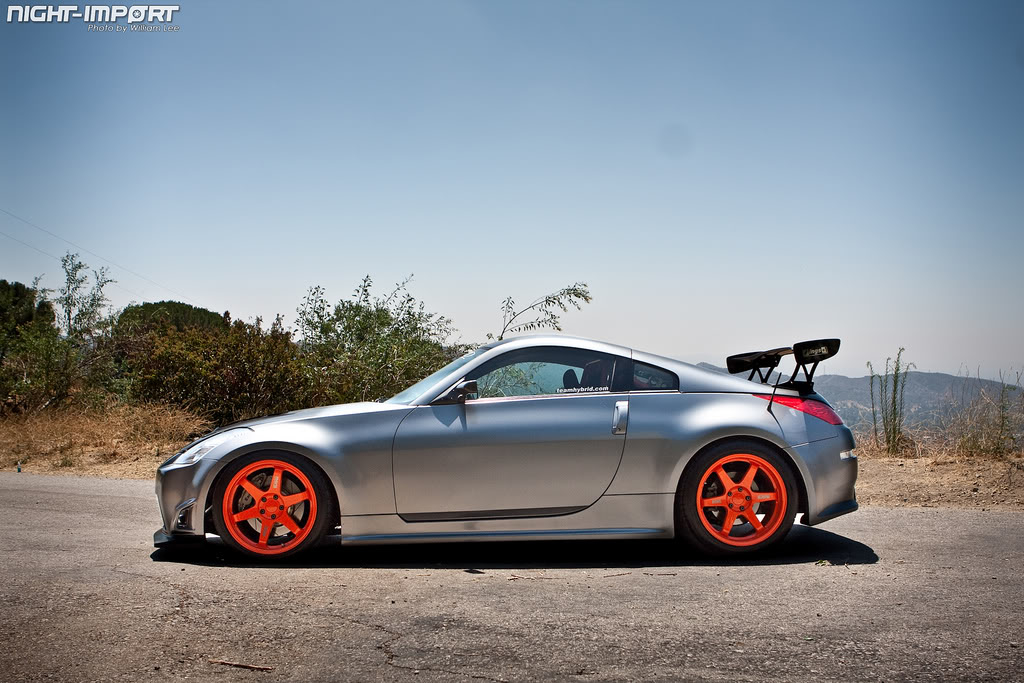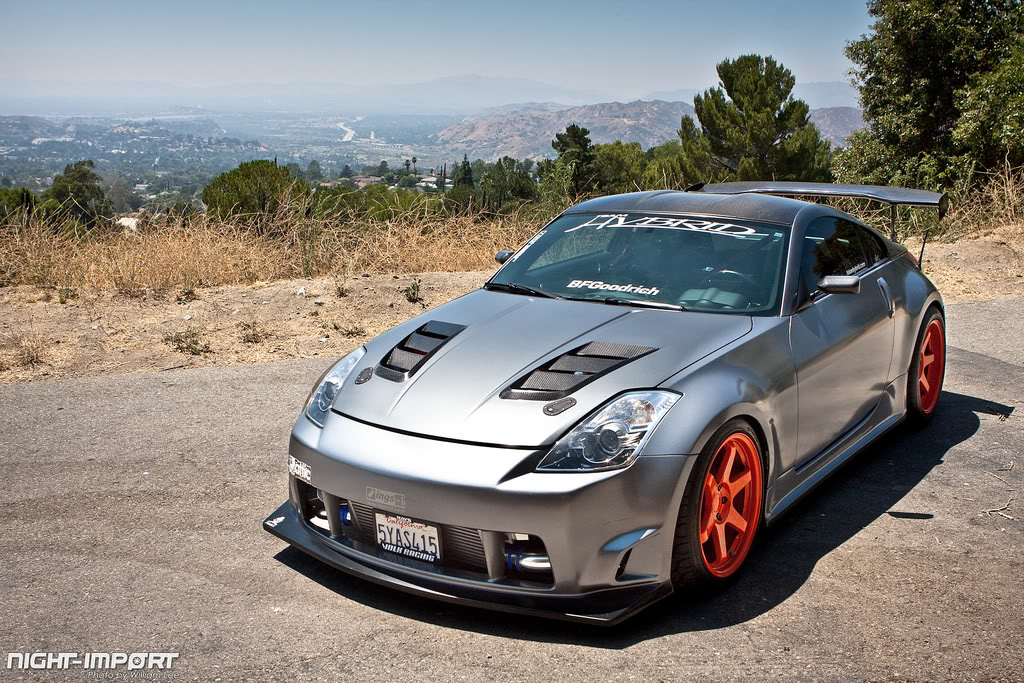 The photos might not show it too well, but the paint is not a stock Nissan color. What you can somewhat see is a BMW Frozen Grey Paint Job, a semi-matte finish, which doesn't make the car shine like other cars, but out-stands with its uniqueness.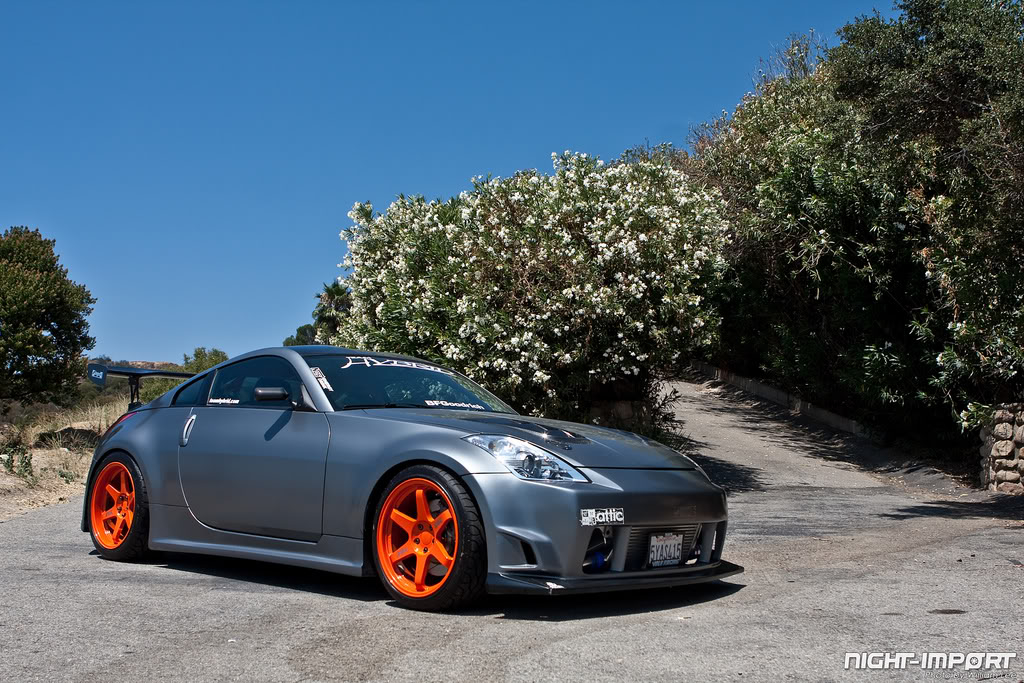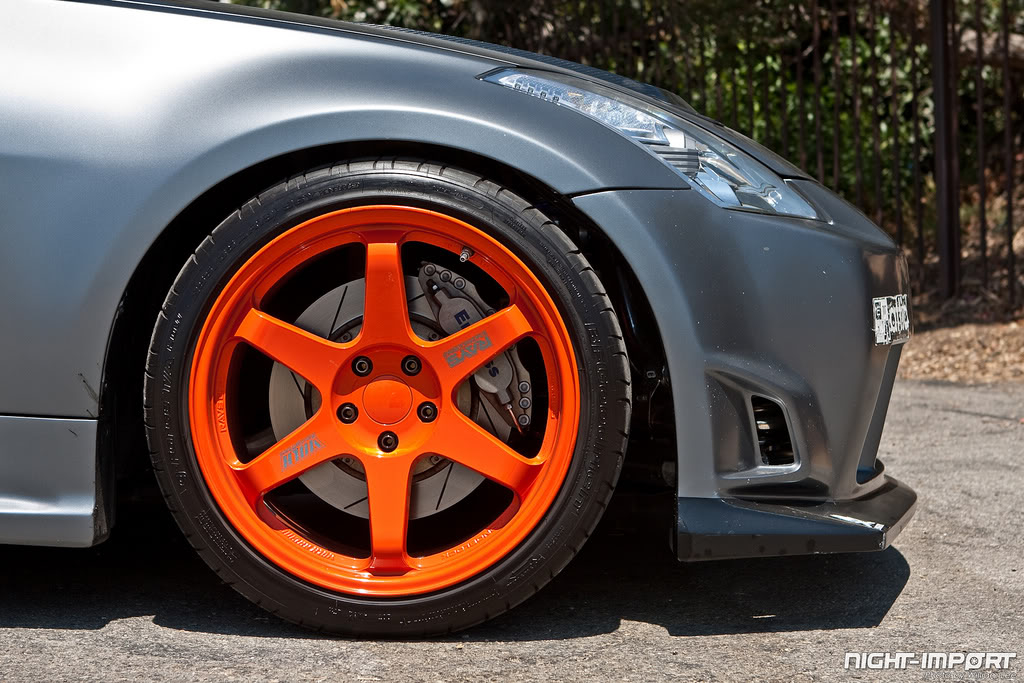 What really caught my attention when I first saw Daniel's Z were these custom finished Volk TE37s and in between the 6 spokes, a BBK that no other Zs have in SoCal, Endless 6-pot BBK w/ Raw Aluminite Finish and the companies name in original font.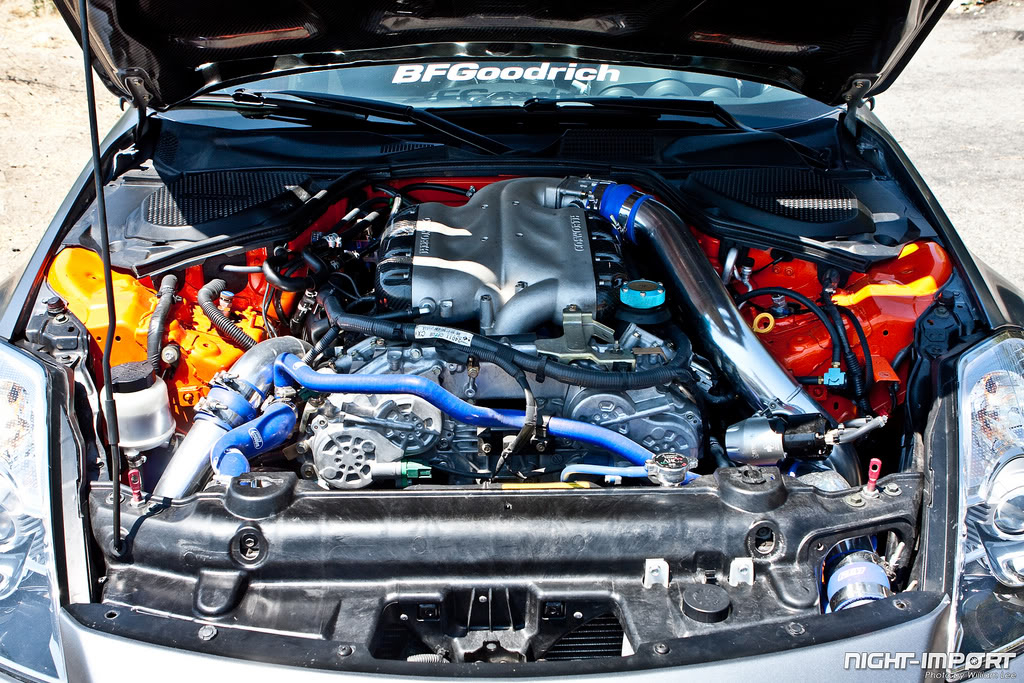 When looking at the stance of the car, we automatically know this car was built to function. Once the hood was opened for an engine bay shot, I was not disappointed to see a GTM Twin Turbo Kit w/ Garett GT28RS Turbos, tuned and monitored with Haltech products.
Engine
GTM Twin Turbo Kit w/ Garett GT28RS Turbos
GTM 3″ Down Pipes
Cosworth Intake Manifold w/ CF Velocity Stacks
Haltech Engine Management System
Haltech Dual Wideband Controller
Haltech Boost Controller Solenoid
UpRev Osiris Reflash
Deatschwerks 850cc Injectors
Synapse Synchronic Blow-Off Valve
Tial 38mm Wastegates
Fast Intentions SS Intimidator Exhaust
Power Enterprise Large Capacity Oil Pan
Koyo 36mm Double Row Radiator
OS Giken Twin Plate Clutch
OS Giken SuperLock 1.5way LSD
Nismo SS Braided Clutch Line
ARC Radiator Cap
ARC Oil Cap
ARC Titanium Radiator Cover
ARC Catch Can v1
EVO-R Burnt Titanium Timing Cover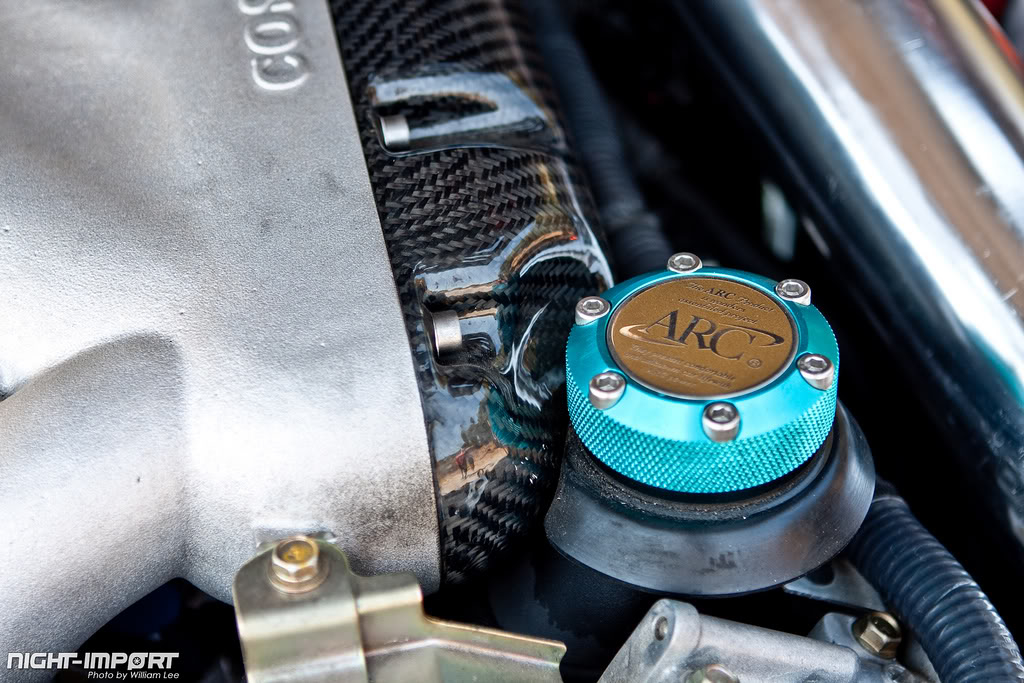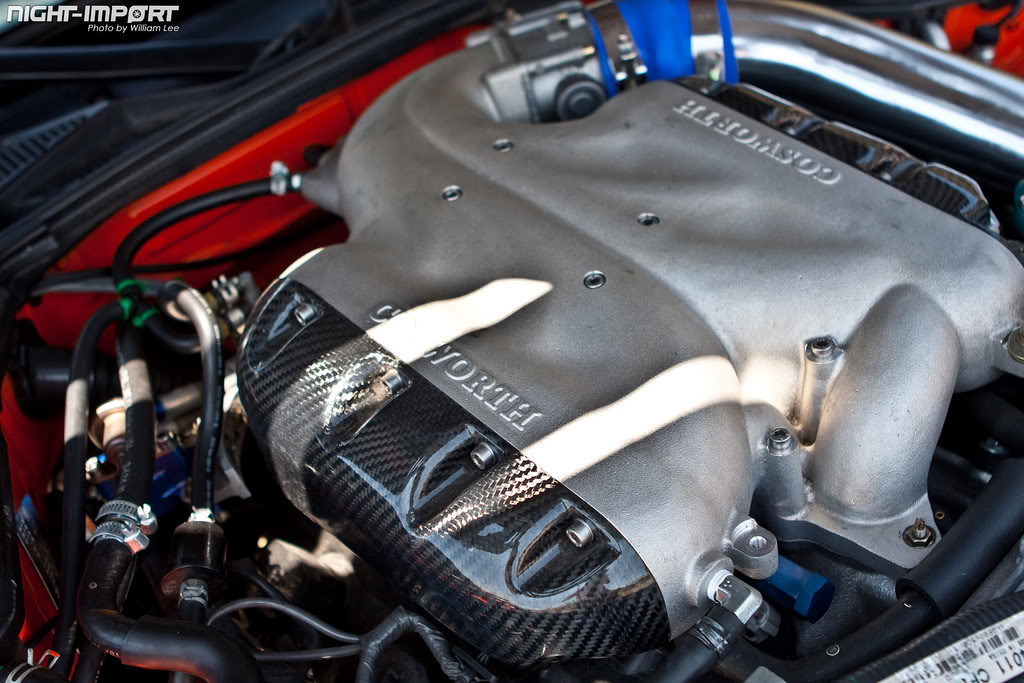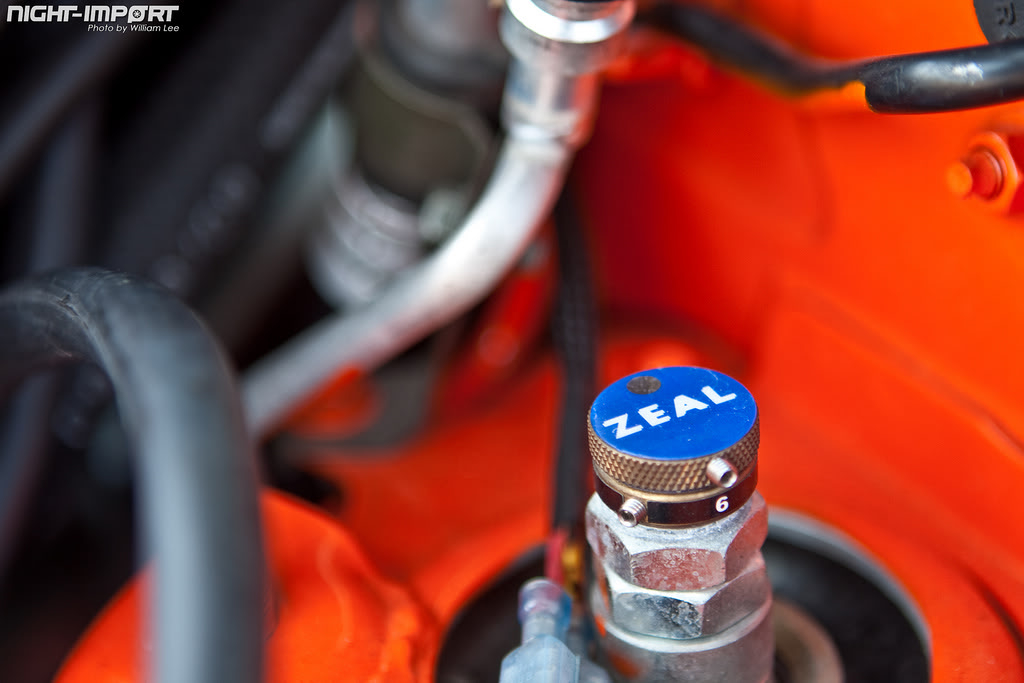 Daniel focused on one part more than the other mods; Suspension. Sitting on Zeal FunctionXS Coilovers custom valved for 12k/10k, there were much more suspension products installed in order to feel the maximum handling capability of a track built car.
Suspension
Endless 6pot BBK w/ Raw Aluminite Finish & Old School Font Type
Zeal FunctionXS Coilovers custom valved for 12k/10k
19″ Volk Racing TE37s in Orange
BFGoodrich g-Force KDW2 Tires (275×35 / 295×35)
ARC Titanium Strut Bar
Cusco Sway Bars
SPL Rear Camber Links
SPL Rear Toe Links
SPL Rear Traction Links
SPL Eccentric Lock Out Kit
SPL Front Sway Bar Endlinks
SPL Rear Sway Bar Endlinks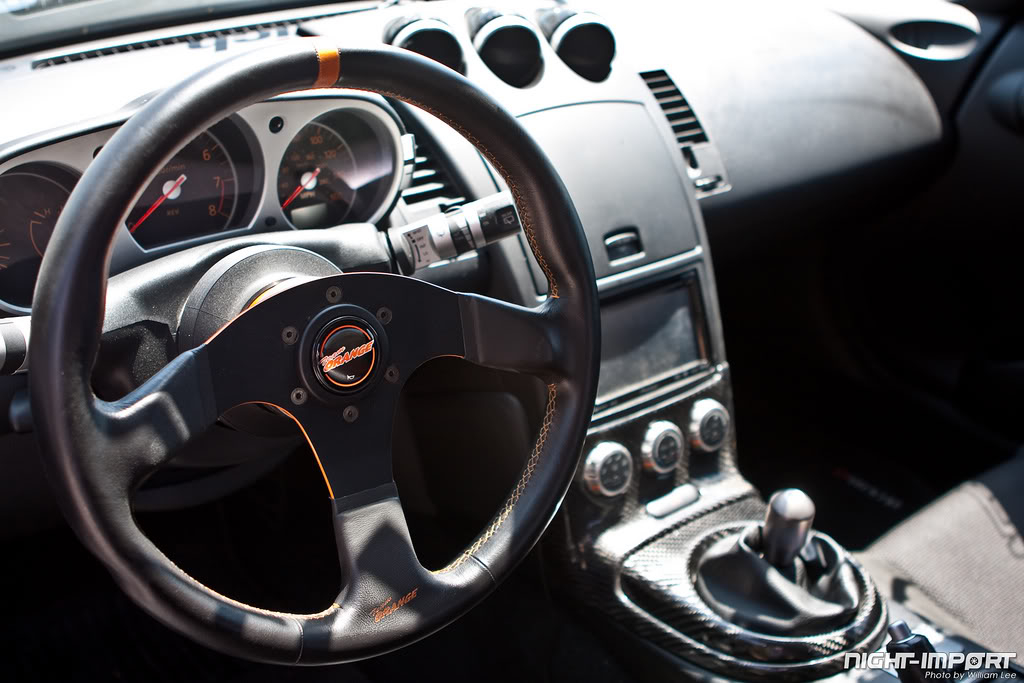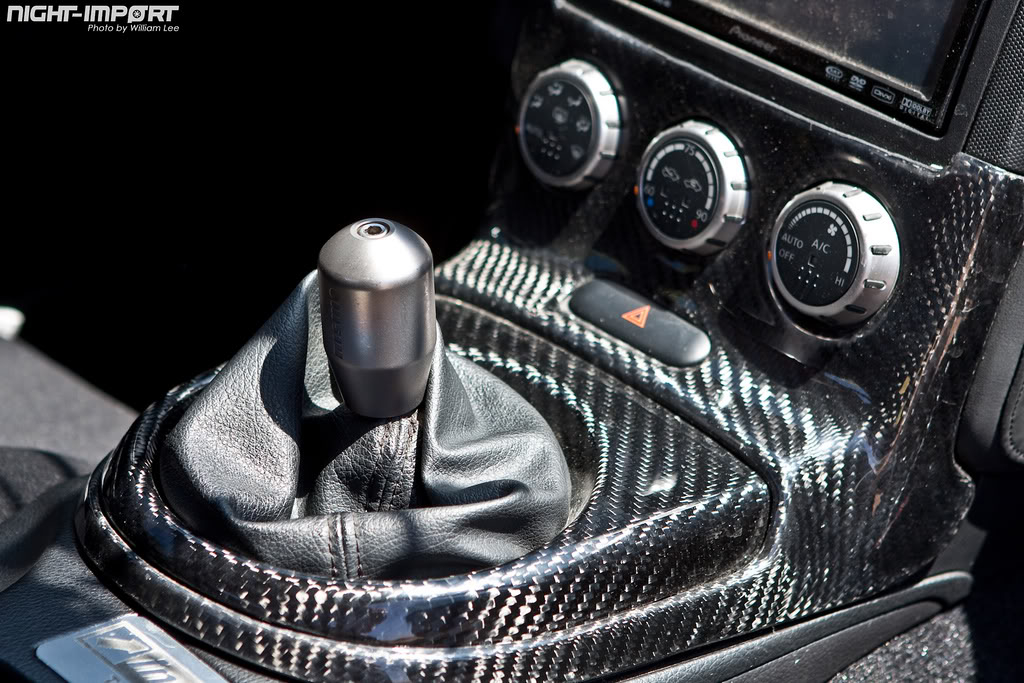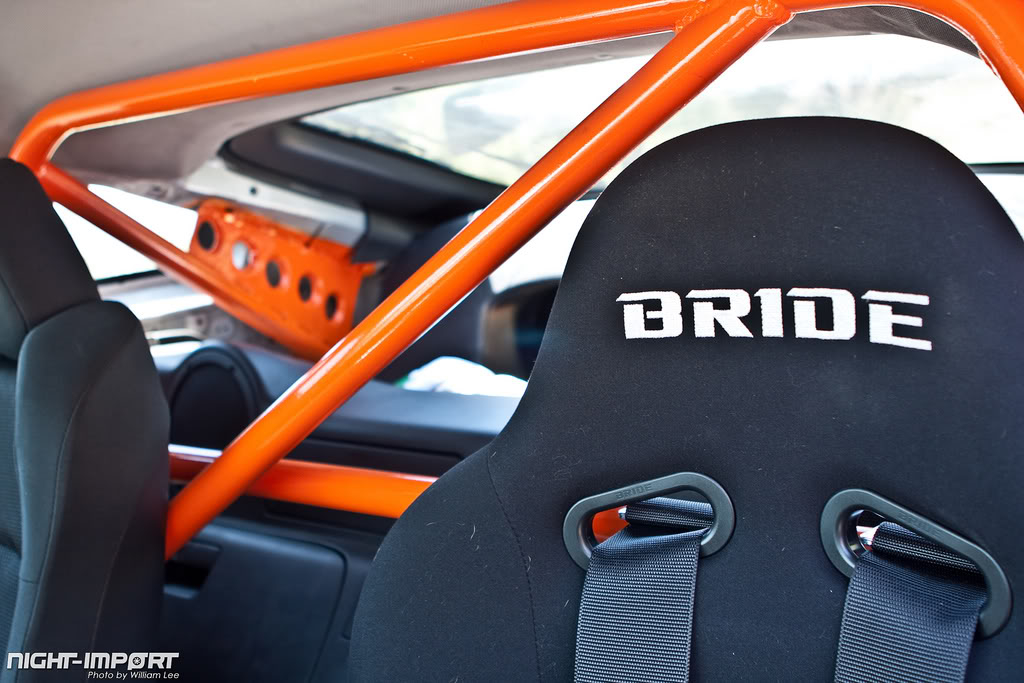 The modification goes on with the interior being fully modded with a custom built-in roll cage, Bride seat, and Team Orange edition Works Bell QR and Steering wheel. Everything from inside to outside was modified with quality parts to not only make the car look competitive, but also a show winner.
Interior
Custom 4 Point Roll Cage
Bride ZETA III Type-XL Bucket Seat
Schroth Profi III 5-Point Racing Harness
Team Orange Personal Steering Wheel
Team Orange Works Bell RAPFIX2
Works Bell Short Hub
DEFI Boost Gauge
DEFI Oil Pressure Gauge
DEFI Water Temp Gauge
DEFI Control Unit II
Injected Performance Dual Wideband Gauge
Nismo 380RS Pedal
Nismo GT Titanium Shift Knob
EVO-R Carbon Fiber Dash Trim
Pioneer AVIC-D3 Head Unit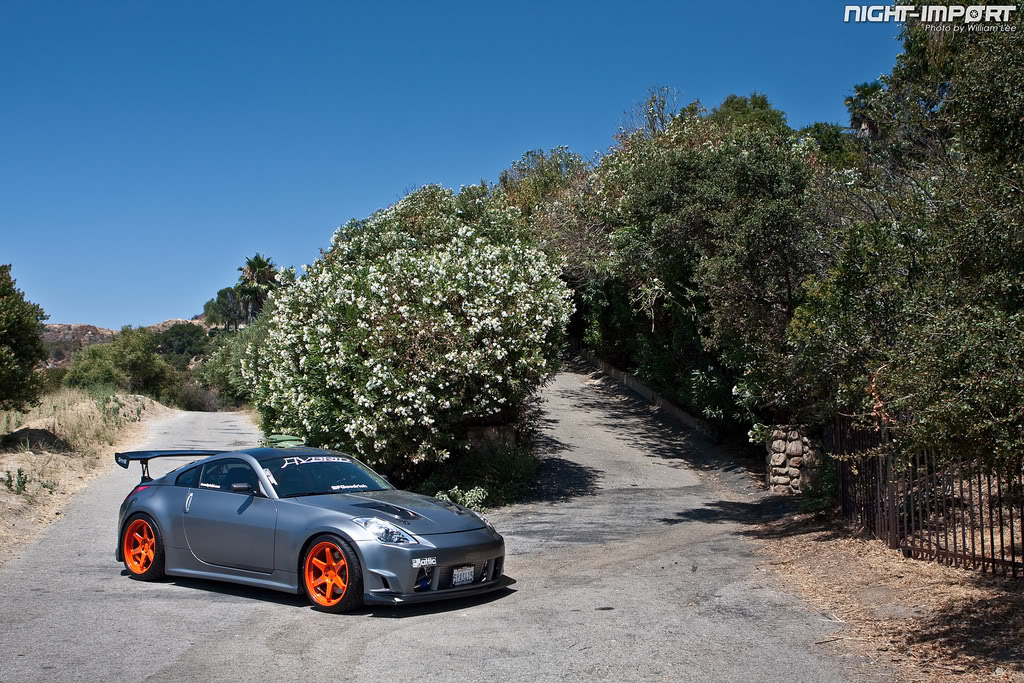 This is only the beginning for Daniel. He has been in the automotive scene with his Z for quite a long time, but very soon, it will go through a major makeover. Let's just say it will definitely be an eye-catching Z than it is at its current stage.
via Daniel,
Shout out to the Team Hybrid family, Ivan & Serf, BFGoodrich, Z1 Performance, THMotorsports, EVO-R, Corner3 Garage, and JER.
*Some parts listed in the Mod list were not added for this photoshoot.