Congratulations to Charleston Penesa's EVO IX for being featured in the online website – PASMAG.com. Please visit www.PASMAG.com and for the exact link of the article which was released yesterday, please visit http://www.pasmag.com/features/top-r…eneration-nine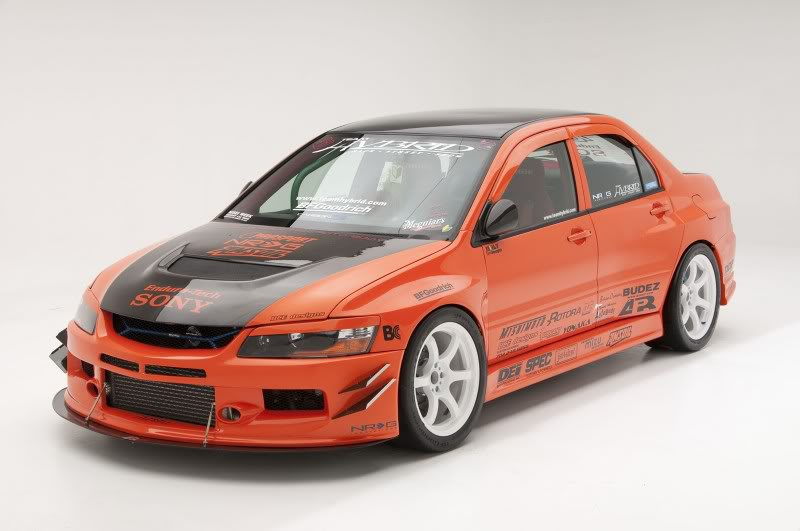 Title of Article: Generation Nine
Written by: Dave Pankew & Photos By: RCH Designs
Want to see where the trend in car modifications is going? Well, look no further than this Team Hybrid EVO 9. The mission statement behind this build was simple: make a sick looking Evo that could hold its own at shows and still be a street car. This is no trailer queen, but rather a daily driver that throws down over 500awhp on pump gas! As with any daily it has all of the luxuries and gadgetry onboard as well as a fully appointed interior.
(Tuners that understand how to maximize E85 have great gains and at 505awhp and 481lb-ft of twist, this Evo is no exception)
Owner Charleston Penesa of Las Vegas, NV realized that to have the functionality of a sedan with outrageous street-able power, he didn't have to look further than the Evo. Well known for outgunning exotics on the circuit, the Evo is an ideal mod choice and with that, Penesa stepped it up. The 4G63 motor was pulled and filled with new gear including BC pistons, rods and crankshaft. The head was ported, polished and filled with a completed BC valvetrain and a pair of 280º cams. Penesa sided with a 3076R turbo kit from long-time Mitsubishi specialist Buschur Racing. Air is hauled in using and HKS super suction intake and chilled with an HKS front mount connected up with RMR piping and vented by a Forge BOV. Post-combustion, the gases head into an HKS downpipe, Ultimate Racing test pipe and an HKS Carbon Titanium exhaust.
Using a flashed EVO IX PCM, the results were impressive. The fuel system has been set up to use E85 ethanol available at many pumps, which burns much cooler than conventional RCH_1346_thgas. Tuners that understand how to maximize E85 have great gains and at 505awhp and 481lb-ft of twist, this Evo is no exception. All that extra jam meant that Mitsubishi OEM clutch would tap out and therefore had to be replaced. A SPEC Super Twin Disc clutch was added, but the balance is all Mitsu!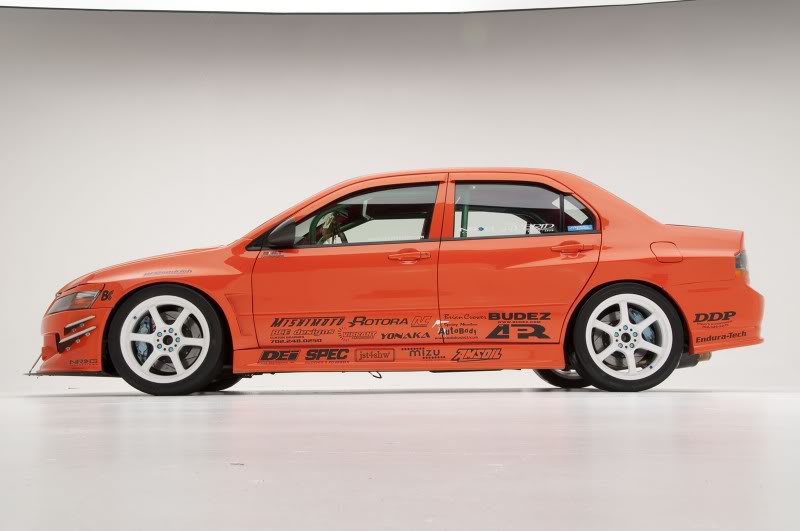 While the Evo is blessed with unreal natural abilities, there is always room for upgrades. Penesa started with a set of Endura-Tech 10-way adjustable coilover suspension using 7kg and 5kg springs. A pair of Cusco sway bars was added to the project along with GReddy strut bars to brace the chassis. The factory rubber bushings were all pressed out and replaced with Energy Suspension polyurethane bushings.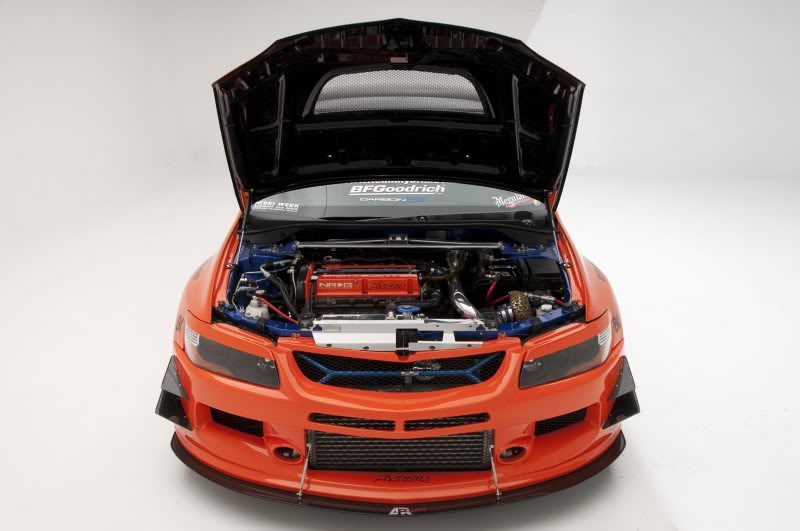 All of the suspension mods benefited from the amount of rubber Penesa added and the reduction in rotating mass. He sourced a set of Rays Gram Lights in 18×10-inches with a sizable +15 offset. The lightweight forged alloys were wrapped in a set of BFGoodrich R1 tires measuring 275/35R18. Lurking behind the white spokes are Rotora 6-piston front calipers with 355mm rotors up front and 4-piston rear calipers with 330mm rotors in the rear. Rotora carbon compound racing pads were fitted to all four corners and the Rotora stainless steel brake lines were filled with Amsoil Synthetic brake fluid.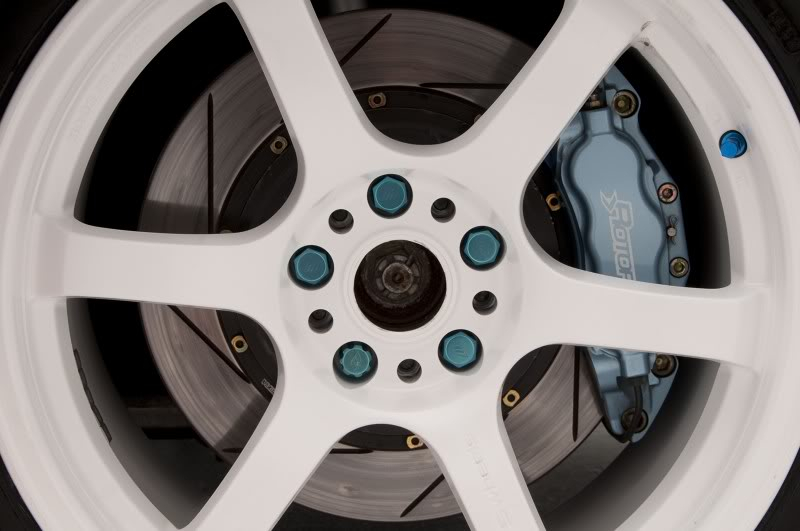 Since the car still is pulled off the road every other weekend to attend shows, it had to look the part. Penesa installed an APR Performance EVIL-R wide body kit along with an APR front diffuser and drenched the project in several coats of Tangelo Pearl. A Seibon carbon fiber hood and trunk were added along with a Carbon8 full carbon fiber roof panel. The final touches were some JDM Evo7 headlights and taillights along with some RalliART carbon fiber mirrors.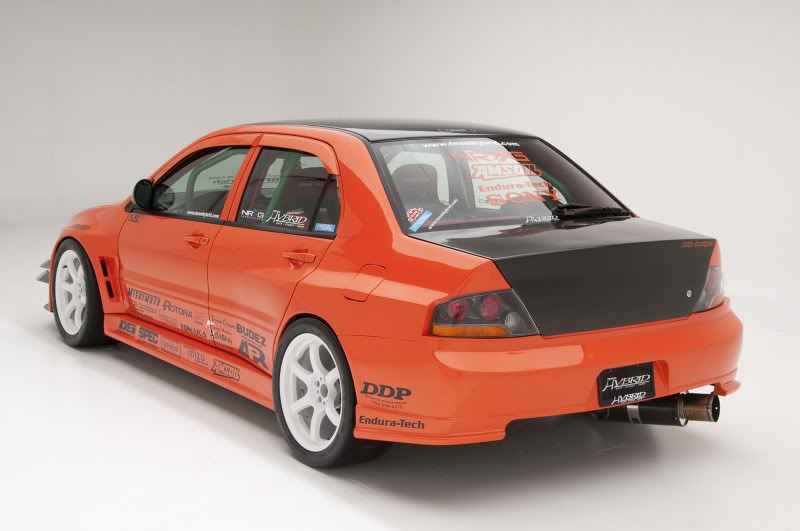 Inside the cabin, the upgrades just kept coming. Penesa added a pair of Bride Vios Low Max seats draped with Race Tech 4-point harnesses. Several interior panels were recovered in rich, red suede to highlight the interior. The occupants are surrounded by a Cusco 6-point roll cage finished in a 'Takata Green' paint job. Steering inputs are made with a Nardi 350mm deep corn steering wheel with and NRG 3.0 quick-release connected to an NRG short hub.
Penesa with the help of Team Hybrid's Founder/President, James Lin then secured a sponsorship deal with electronics powerhouse Sony, to add some of their Xplod gear. Penesa's installer/fellow Team Hybrid member, Tom Milroy, made some room for the Sony XAV-60 double DIN unit complete with navigation and Sony rearview camera. The lows absolutely pound with a trio of Sony Xplod XM-ZZR3301class D mono amplifiers individually wired to three Sony Xplod 10-inch XS-LD106P5 subwoofers in custom trunk enclosures. The mids and highs are powered by twin Sony Xplod XM-ZR704 4-3-2-channel amplifiers pushing two Sony Xplod GTX1621S speakers and two XS-GT1626A speakers. The elaborate presentation in the trunk also includes two Sony XVM-B62 LCD monitors and a load of color-match fiberglass work. The system is lit up by an Optima Yellow Top connected with Stinger wires, fuse box and 2 Farad capacitors.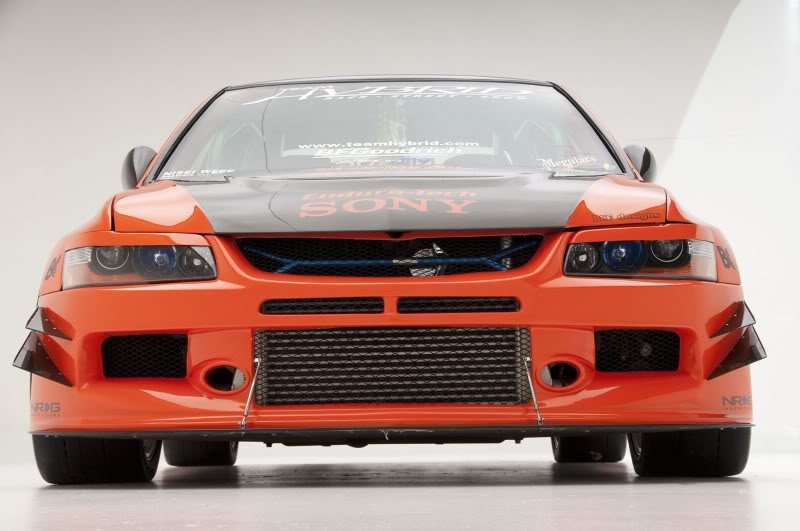 A street car that can embarrass exotics costing ten times the price is really what it is all about. No one wants a car you can use and abuse these days, and sacrificing comfort for weight savings is a thing of the past. Add more gadgets, make more power, its all very possible today. Penesa is an example of what enthusiasts want today & Team Hybrid's Philosophy – the total package of Race-Street-Show.
THE ESSENTIALS
Owner: Charleston Penesa
Location: Las Vegas, NV
Vehicle: 2006 Mitsubishi Evo IX
Power: 505awhp with 481lb-ft
ENGINE
Mitsubishi 2.0L 4G63 Inline-4

ENGINE MODIFICATIONS
Buschur Racing 3076R turbo kit
BC lifters
BC springs
BC pistons
BC connecting rods
BC crankshaft
BC 280º cams
HKS Super Suction intake
RC Engineering 1000cc injectors
HKS front-mount intercooler
RMR intercooler piping
Forge blow-off valve
Magnecore plug wires
HKS down-pipe
Ultimate Racing test pipe
HKS Carbon Titanium exhaust system
Mishimoto oil cooler
Mizu radiator
ENGINE MANAGEMENT
Evo IX PCM Reflashed

DRIVELINE
SPEC Clutch – Super Twin

WHEELS, TIRES, BRAKES
Rays Gram Lights 18×10-inch+15 offset
BFGoodrich R1 tires 275/35R18
Rotora 6-piston / 355mm rotors
Rotora 4-piston / 330mm rotors
SUSPENSION
Endura-Tech 10-way coilovers
Cusco sway bars
GReddy strut bars
Energy Suspension bushings.

EXTERIOR
APR Performance EVIL-R
APR front diffuser
Tangelo Pearl paint
Seibon carbon fiber hood
Seibon carbon fiber trunk
Carbon8 full carbon fiber roof panel
JDM Evo7 headlights and taillights
RalliART carbon fiber mirrors
INTERIOR
Bride Vios Low Max
Race Tech 4-point harnesses
Red suede interior
Cusco 6-point cage
Nardi 350mm deep corn steering wheel
NRG 3.0 quick-release
NRG short hub
NRG shift knon

AUDIO / MULTIMEDIA
Sony XAV-60 double DIN
Sony rearview camera
Sony Xplod XM-ZZR3301class D mono amps x3
Sony Xplod 10-inch XS-LD106P5 subwoofers x3
Sony Xplod XM-ZR704 4-3-2-channel amps x2
Sony Xplod GTX1621S speakers x2
Sony Xplod XS-GT1626A speakers x2
Sony XVM-B62 LCD monitors x2
Optima Yellow Top
Stinger wires, fuse box and capacitors.
SHOUTOUTS
My wife & kids, James Lin of Team Hybrid & Hybrid Hunnyz, Team Hybrid Family esp. LV Chapter Director Archie Concon (www.teamhybrid.com), Joe at NRG, everyone at SMAB, Ken at Endura-Tech, Brian & AJ at BCE Design, Dougs Dyno power, Jamie Jarvi at Amsoil, Meguiar's, MIZU, SONY, BFGoodrich Tires and the rest of the people who helped me out thank you. May 15+ years of Team Hybrid's Tradition-Philosophy-Innovation-Management-Quality continue making import history… __________________