Hybridz:
Congratulations to Ryan Romaine's WRX for being featured in the online website – EbcBrakesBlog.com. Please visit www.EbcBrakesBlog.com and for the exact link of the article which was released 08/26, please visit http://www.ebcbrakesblog.com/2010/08…great-success/
Title: US Racer Ryan Romaine Running on EBC Yellowstuff Brakes and USR Sport Rotors with Great Success!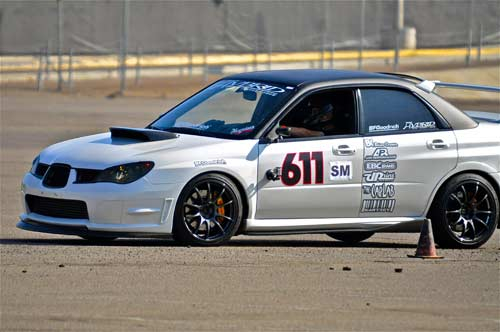 I have been doing a lot of work to the car, I did a full Chargespeed Type 1-A Body kit from Japan for the shows. I have also done a lot more suspension work to the car for the track such as steering stabilizers, frame bracing, Solid bushings, BFGoodrich R1 Track Tires. The car handles amazing now with just a bit more frame stiffening and Track tires. I just recently just shot for Import Tuner Magazine so hopefully my feature article will be out in the next few months. I wanted to know if I would be able to get some more EBC brake pads from you. I Just recently wore out my Yellowstuff brakes. The rotors seem to be holding up just fine for the type of heat and braking I am giving them. I wanted to see if I would be able to get a set of Bluestuff brake pads to test out and a spare set of yellowstuff brake pads.
The brakes work fantastic and I would have no hesitation in recommending these having run half a season on one set of yellows. The Bluestuff brakes sound fun and I look forward to running those and comparing to the yellows.