Armando Rodriguez's 1996 Mitsubishi 3000GT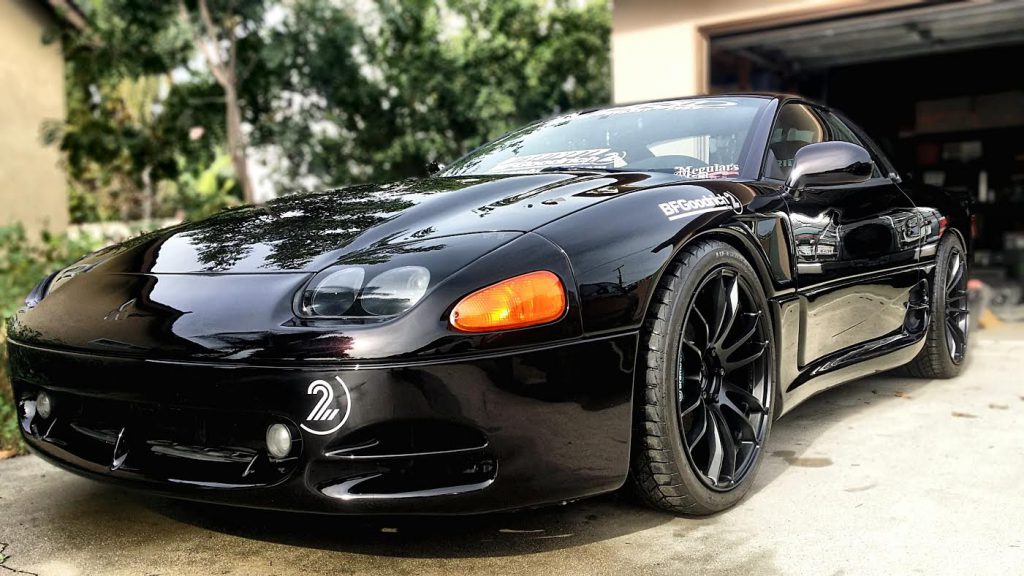 Name: Armando Rodriguez Jr.
Location: So. California Chapter
Modifications
Motor Build
8.0-1 95.25mm Pistons
Forged OEM Crank
Forged OEM Rods
ARP Rod Bolts
3SX Aluminum Crank Pulley
Block inspected and cleaned
Block Redecked
Block Bored and Honed using a Torque Plate
Rotating assembly balanced 10,000RPMS
Crank Magnafluxed and the journals micro-polished
Heads rebuilt
Valves Cut
Valve Seats cut
New Valve Guide Seals
Ninja Performance Big Bore Lifters
Engine
Mishimoto Performance Aluminum Radiator
Mishimoto Silicone Radiator Hoses
Custom Powder Coated Radiator Mounts in Translucent Teal
15G Twin Turbo's by Boost More
GReddy Type-S Blow-Off Valve
HKS EVC IV Electronic Boost Controller
Stillen 3″ Down Pipes
TRUST/GReddy Single Shot Exhaust
Spec Stage 3 Clutch
Fidanza Aluminum Flywheel
Mishimoto Oil Cap
Custom Powder Coated Valve Covers in Translucent Teal
3SX Red Polyurethane Motor Mounts
3SX Polyurethane Transmission Mount
EGR Delete and Block off.
Vacuum line Reduction
4" Aluminum Intake
K&N RC-4550
Fuel
Walbro 255lph Fuel Pump
Hot Wired Fuel system
360cc injectors
Exterior
3-Stage BASF Onyx HD Paint
2-Stage Glasurit Clear Coat
1-Off Custom Vented Fenders
Carbon Fiber Sail Panels
8000K HID Head Lights
6000K L.E.D. Entry Lighting
Antenna Delete and Shaved
Shaved Badges
Suspension
Front Brembo 4pot BBK in Translucent Teal
Rear Custom Powder Coated Calipers in Translucent Teal
HAWK HPS Front Brake pads
HAWK HPS Rear Brake pads
JIC Magic FLT-TAR series Monotube 15 Way GT Spec Coilovers 14kg/10kg
Addco 1" Rear Sway Bar
3SX Rear Camber Links
3SX Rear Toe Links
SuperPro Polyurethane Control Arm Bushings
Wheels/Tires
19×9.5+35 Rays Gram Lights in Semi Gloss Black
19×10.5+43 Rays Gram Lights in Semi Gloss Black
BFGoodrich g-Force Sport Comp-2 Tires (255×35 / 275×35)
Interior
Bride VIOS III Sport-C Bucket Seat
Sparco 4-Point Racing Harness
Nardi Deep Corn 330mm – Offset 53mm – Suede/Red Stitch Steering Wheel
NRG Short Hub
NRG Shift Nob
Polished Shifter
Custom Red L.E.D. Gauge Cluster
ProSport Boost Gauge
Momo Race Pedals
6000K L.E.D. Map Lights
6000K L.E.D. Dome Lights
6000K L.E.D. Floor Lights
Battery relocation (Rear)
KnuKonceptz 1/0 Power Cables
Optima REDTOP Battery 75/25
I.C.E.
Kenwood Excelon KDC-X997 Head Unit
Infinity Kappa 6" 2-Way door speakers
Infinity Kappa 6"x9" 3-Way Rear Speakers
Sponsors
Meguiar's
BFGoodrich Tires
Mishimoto
Optima Batteries

Misc Special Thanks to my Sponsors Meguiar's, BFGoodrich, Mishimoto, Optima Battiers and especially to Founder/President James Lin, SD Chapter Director Scott Dean and my Wife Marlene Rodriguez for all your support, as well as Team Hybrid Family and Hybrid Hunnyz.
May our 22+ years of legendary tradition continue making import history…